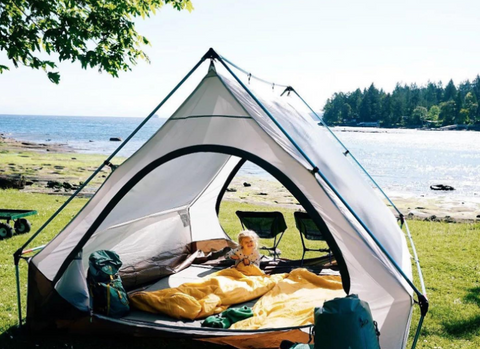 Ultimate Summer Backpacking Gear List
How to Plan the Perfect Summer Backpacking Trip
Planning the perfect summer backpacking trip revolves around one key (and rather obvious) component… planning in the first place!
Make sure you're informed of the route you plan to take, the weather you may encounter, the conditions expected on the trail, the campsites you intend to use, and the water sources you can pump from… and pack accordingly.
We'll break it all down below, along with a few gear items for your summer backpacking checklist!
Planning Ahead: Why It Matters
Summer weather may not be as unpredictable as the weather you'll find when camping in winter or camping in spring, but planning ahead is still essential. In addition to checking the weather and packing accordingly, you'll also need to be aware of the route you're using, the conditions you can expect, and the campsites you plan to use.
Know the Conditions
Weather conditions can still change rapidly in the summer months, depending on where you're backpacking. Check the weather beforehand, and pack accordingly. Always bring at least a basic set of rain gear, even if clear skies are on the forecast, and be sure your shelter system incorporates some form of rain protection, whether you're sleeping in a hammock, a tent, or a bivvy sack. Sleeping under the stars might work when you're close to the trailhead or your car, but if you're heading out backpacking, you need to ensure you're ready if rain rolls in.
Know Your Route and Campsite
In addition to knowing the trails you need to take, the junctions where you need to make turns, the elevation gain, and other features you may encounter as you travel, make sure you plot out your campsites in advance. You should be aware of where you intend to stop each night, the total tent spaces available at each campsite, and the mileage between the sites.
Also, check for water sources where you can pump or otherwise purify water during your trip (and if verifiable water sources aren't available, be sure to pack in enough water to last for the duration of your trip).
Know the Regulations
Rules and regulations often change throughout the year. Summer camping regulations may differ from off-season ones, even in the same park or reserve. Be aware of local restrictions regarding camping with pets, firebuilding, usage of gas or propane stoves, waste disposal, and where you can and cannot set up your tent or shelter. Some wilderness areas allow camping in unmarked, unestablished sites, while others do not. Be sure you acquire the proper permits and licenses to camp and travel before you head out.
5 Essential Gear Items
Outbound Single-Burner Portable Camping Stove
A basic single-burner stove is a must-have even for a one-night backpacking trip. The Outbound Portable Camping Stove (1.72 lbs) offers a stable, reliable cooking solution. Built from durable, chrome-plated steel, this stove fits up to a 10" pot or pan and easily performs in both sub-freezing temperatures and high altitudes. It sports up to 10,000 BTUs of heat and a match lighting adjustable burner control for precise temperature and versatility.
Woods Single Backpacker Camping Hammock with Tree Straps
Summer backpacking is ideal for hammock camping! Sleep closer to nature in this ultralight hammock, featuring eco-friendly tree wraps and a carry bag for easy storage and transportation. Made from durable, lightweight parachute nylon, this hammock is the perfect way to sleep under the stars.
Outbound 4-Piece LED Lantern & Camp Light Set
You probably don't want to bring the entire set backpacking, but at least one of these compact, lightweight light sources is a must-have for any overnight outing. The lanterns and flashlight include bright LED bulbs that provide great nighttime visibility, and come with batteries! You'll get one full-size lantern, two collapsible lanterns, and one pocket flashlight, so you can have plenty of spare light sources at home or in the car for other trips.
Outbound Compact Ultra-Lightweight Camping Sleeping Bag: 43 Degree
Warm summer nights are stuffy if you don't have a lighter sleeping bag. The two-pound Outbound offers a soft, durable shell and lining, designed with Hi-loft polyester fabric. The full-length zippers make for easy opening, while the stuff sack lets you easily keep your bag compact while on the trail. This bag is rated to 32 degrees, so it's an ideal summer backpacking sleeping bag, but still provides warmth on cooler nights.
Woods Cascade Lightweight 2-Person 3-Season Tent
This lightweight, burly tent is the ultimate shelter for backpackers. A large door allows easy exit and entry and a vestibule provides additional storage space. Reflective piping makes for night visibility, while the ultra-strong PowerLight aluminum poles shave weight. A Ripstop polyester shell protects you from the elements, regardless of the season, so this is a tent you can have in your pack year-round.
Frequently Asked Questions
What should I pack for a 7-day backpacking trip?
A seven-day backpacking trip is a serious outing. Try to cut your teeth on multiple one-night and two-night weekend trips before embarking on a seven-day trip. When you're ready to go backpacking for seven days in a row, you'll be experienced enough to tell.
A food drop (i.e. planning ahead and stashing food at a specified location), might be a viable strategy for a seven-day trip, depending on how much space you have in your pack. Bringing at least two water purification devices (a primary, like a pump, and a backup, like purification tablets), and planning out water sources in advance is also absolutely critical for a longer trip.
Keep clothes to a minimum, as well, and focus on fuel, food, water, and other consumable essentials. When you're in the backcountry for seven days, you aren't going to care if your shorts are a bit dirty. The one clothing item you shouldn't skimp on is socks, however. Bring several pairs of socks (and underwear) for a seven-day outing!
What should you not forget when backpacking?
There are several things you shouldn't forget when backpacking (not just one!) but essential backpacking gear includes water, food, shelter, proper apparel and footwear, any prescription medicine you need, a stove, fuel, a lighter, a pocketknife, a sleeping bag, a headlamp, flashlight, or lantern, a mattress or sleeping pad, and a backpack to carry it all.
What do I need for summer backpacking?
Summer backpacking generally requires the same essentials as backpacking at any other time of year. However, items like sunscreen, a sunhat, polarized sunglasses, and extra water are particularly important for backpacking during warm, sunny summer months. Summer backpacking clothes also need to be lightweight and breathable.