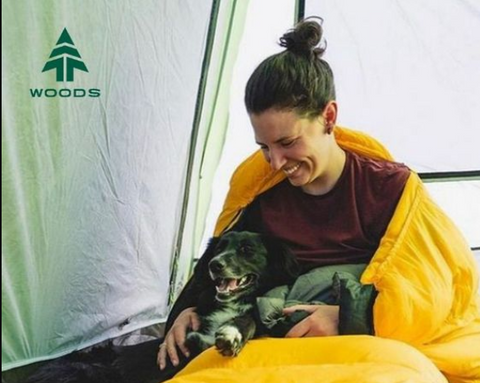 Top 10 Dog-Friendly Campsites
Camping With Your Dog!
Bringing your furry friend camping makes for an adventure that you and your dog will enjoy! Whether you're car camping, backpacking, taking a canoe trip, or any other outdoor adventure, chances are your dog will enjoy tagging along with you.
However, camping with dogs adds another layer of complexity to any trip. You need to make sure both you and your dog are prepared!
In this article, we'll cover everything you need to know to take your dog camping, from the essentials to the best dog-friendly campsites to some frequently asked questions you may have.
Can You Take Your Dog Camping?
The answer to this question depends on three things: 1) The type of dog you have, 2) the type of camping trip you're going on, and 3) where you're going camping.
Car Camping
If you're going frontcountry camping in a local state park or doing any type of car or RV camping, chances are you can bring your dog with you, no matter if it's a chihuahua or a Doberman. So long as you can keep your dog warm (or cool), fed, and hydrated, then they'll enjoy camping with you!
That said, just because you can safely bring your dog doesn't mean you can legally bring your dog. Many trails and campgrounds prohibit dogs or require leashes at all times, so be sure to check local regulations before you and your furry friend head out!
The most important thing to remember when car camping with a dog is that you're likely to be around other campers (and maybe other campers' dogs). An aggressive dog is going to cause problems at a crowded campsite, so your dog needs to be well-trained and well-behaved. If your dog is a frequent, loud barker, the type of dog that is constantly running off after squirrels and birds, or always straining at the leash and causing problems at home, then you might want to reconsider bringing them camping.
Backpacking
Backpacking with dogs is also possible, but it's a bit more difficult than car camping. Your dog needs to be able to carry their own food, water, and other gear, or you need to be able to carry it for them.
As a result, small dogs often don't make for great backpacking dogs, since they likely can't carry their share of provisions. But on the other hand, if you are fine carrying extra food and water for your dog, then it's no problem! Backpacking with a big dog is easier since your dog will be strong enough to carry its own provisions on the trail, but again, you'll need to be sure your dog is well-trained and won't harass other hikers. A big dog that's hard to control (particularly if you're worn out after a long day of hiking) makes for a dangerous situation on a remote backcountry trail.
Camping Destination
Whether you're backpacking or car camping, consider the destination you're heading to. If it's extremely hot on the trail, your dog's paws could get burned. If the trail is rocky or overgrown, their paws could get cut.
Doggie hiking booties can protect your dog's paws, mitigating both of these problems (you can find plenty online), but if conditions are going to be like this, it's worth reconsidering whether you should even bring your dog in the first place.
The same can be said for cold weather camping with dogs. Most dogs will naturally stay warmer than their humans in cold weather, but you may still need to bring a doggie jacket to keep your dog warm depending on how cold it is.
Bringing the Essentials: (What You Need)
When you're taking a dog camping, you need to bring the same essentials you use to take care of them at home. You'll need to bring food, water, and any medicine your dog takes regularly. You'll likely need to bring a leash to keep them controlled around other campers. You might also want to consider bringing specific dog camping gear, like doggie hiking booties (see above), a doggie jacket for cold weather, and a doggie backpack harness or saddlebags so that your dog can carry some share of the load while they're on the trail with you.
We also offer a few products that can make camping with dogs easier.
Tents for Camping with Dogs
Keeping your canine companion warm at night and giving them a comfortable place to sleep is essential. When camping with dogs, a spacious, durable tent is a boon.
Remember that, depending on their size, your dog is basically an extra person (and one that isn't easily controlled!), so shop for a dog camping tent that's big enough to house both of you and give your dog room to stretch out, too. Our durable, rugged tents & shelters provide the perfect home for you and your dog in the great outdoors
Sleeping Bags, Mats & Pads
Sleeping bags, mats, and pads will keep your dog warm and cozy. Depending on the temperature and your breed of dog, you may just need a mat for them to sleep on (i.e. their own little dog camping bed!). If it's quite cold or if your dog isn't naturally well-insulated, then giving your dog their own sleeping bag is a good idea as well. From 5-degree to 40-degree bags, we have everything you need to keep your dog warm in a variety of temperatures.
Utility Wagons
Sturdy, robust utility wagons make for a great way to transport dogs while car camping and to carry extra doggie camping gear and provisions! Woods Utility & Outdoor Wagons make any adventure easy. The blow-molded wheels are suitable for all terrains and the rust-resistant steel frame can handle up to 225lbs.
Top 10 Dog-Friendly Campsites
Sun Outdoors Cape May (New Jersey)
This 38-acre campground, just a short drive from the beach, allows one dog up to 80 lbs or two dogs with a combined weight of 80 lbs for an additional fee of $12 per night. Only select cabins are pet-friendly, but dogs may not be left unattended and must be leashed on property grounds.
Under Canvas Yellowstone (Montana)
This Yellowstone site (just 10 minutes from the national park entrance) allows dogs of any size for an additional fee of $25 per night (per pet). You're camping in bear country, so no food is allowed in the tents, and dogs cannot be left unattended at any time.
Kirk Creek Campground (California)
This bluffside camp in Big Sur is a short drive from the sublime Sand Dollar Beach, a wonderful spot for surfing, swimming, fishing, and sunbathing, making it one of the best dog-friendly beach campsites in America. Dogs must be kept on a leash no longer than six feet when outside your vehicle.
Devils Lake State Park Campground (Wisconsin)
Nestled along a trail above a 360-acre lake, Devils Lake State Park has 29 miles of hiking trails, all pet-friendly. Pets are permitted in the campground, and most trails, but must be on an eight-foot leash at all times.
Caladesi Island State Park (Florida)
This is one of our favorite dog-friendly campsites, with over 2000 acres of beautiful nature and miles of pristine beaches. Dogs are allowed at Caladesi Island State Park, but they must be kept on a leash no longer than 6 feet when outside your vehicle. However, they are not allowed on the beach, so Caladesi is not a great option for doggie beach trips.
Fort De Soto Campground (Florida)
Fort De Soto is a spectacular beach park made up of 1,136 acres across five interconnected islands. Dogs are allowed at the park's campground but must be kept on a leash no longer than six feet when outside your vehicle.
Tuolumne Meadows (California)
This campground, which is set at 8,600 feet elevation, is nestled in the heart of Yosemite National Park. Dogs are allowed at Tuolumne Meadows, but they must be kept on a leash no longer than six feet when outside your vehicle, and are not allowed to stay at the campground itself, as of current regulations.
Delaware Water Gap / Pocono Mountain (Pennsylvania)
Just a half-mile from Shawnee Mountain Ski Area, this campsite is also quite close to the Delaware Water Gap National Recreation Area, where you can head out canoeing, kayaking, and hiking. Dogs must be kept on a leash no longer than six feet when outside your vehicle and are allowed at the tent sites at no charge, but the cabins require a $10 pet fee.
Dockweiler Beach RV Park (California)
This famous California beach RV park welcomes furry friends, but they must be kept on a six-foot leash when outside your vehicle. Proof of rabies inoculation and a valid license are also required for all dogs.
Disney's Fort Wilderness Resort & Campground
Disney's Fort Wilderness Resort & Campground allows two dogs of any size for an additional fee of $5 per night in campsites and $50 per night in cabins! The pet-friendly cabins are limited, so book early if you want to snag one. At check-in, pups will also receive 'Pluto's Welcome Kit', which includes a mat, bowls, pet ID tag, poop bags, puppy pads, and a dog walking map! Proof of vaccinations is required. Ferries and buses can provide transportation from this campground to all Walt Disney World & Resort areas, and dogs are permitted on these shuttles as long as they remain in a carrier.
Frequently Asked Questions
Is it a good idea to take a dog camping?
Camping with dogs is awesome, both for you and your dog! But is it a good idea? It really depends on a variety of factors. As we mentioned above, you need to consider 1) The type of dog you have, 2) the type of camping trip you're going on, and 3) where you're going camping. See the "Can You Take Your Dog Camping" section above for more info.
Where should my dog sleep when camping?
Your dog can sleep with you while camping! Bring a tent large enough for your doggie to join you, and ensure they either 1) have enough space to sleep with you in your sleeping bag or 2) have their own sleeping bag! If it's a warm night, or if they're a cold-weather inclined breed, like a husky, then perhaps you'll only need a mat or pad for them to lie on, or a folded-up blanket, instead.
Your dog can also sleep outside the tent, but it's probably not a great idea unless they're well-behaved or leashed up, because you don't want them running off chasing after animals in the night or disturbing other campers.
How do I keep my dog calm when camping?
Unfortunately, the honest answer here is… If you have trouble keeping your dog calm at home, they shouldn't go camping with you. When camping, you're in a much more rugged, rough environment than when you're at home, and any problems you have with your dog will be exacerbated. You'll need to keep them from disturbing other campers, harassing local wildlife, and running off-trail into potentially dangerous areas, like rivers or cliffsides.