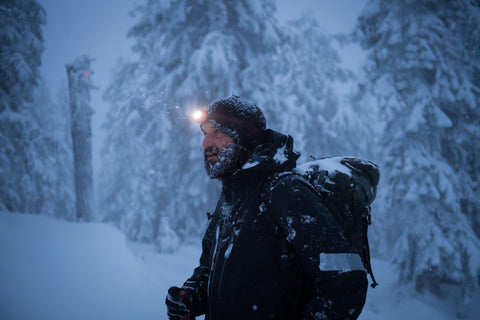 How to Stay Warm During Winter Camping
What Should You Know About Winter Camping?
When you're camping in winter, staying warm is critical. Every aspect of your preparation, from your gear to your apparel to the food you plan to eat, should always be chosen with the weather conditions in mind.
For example, you always want to ensure you have features such as waterproofing and insulation in your jackets, pants, and tent, especially if snow or rain is in the forecast. You also want to ensure you've chosen a proper pair of hiking boots for the conditions you will encounter, and that your socks provide adequate insulation and breathability. Even the food you plan to eat should reflect the colder temps. Hot soups, stews, oatmeal, and other warm liquid foods should be a key part of any winter camping trip menu, as should warm drinks like tea, coffee, or hot chocolate.
All in all, due to the cold weather, snow and ice, and other inhospitable conditions, winter is perhaps the most difficult season to camp in (but it can also be the most rewarding!). So it's important to plan properly.
In this article, we'll dive into the essential gear you need for winter camping, talk about how to choose the best tent for winter camping, and then cover a few frequently asked questions. Let's get started!
What are Winter Camping Essentials?
The season of "winter" means something different depending on where you are in the world. Winter camping in much of the southeastern United States, for example, will mean facing colder temperatures, but rarely encountering snow or ice. So it's not all that different from camping in the summer (other than the fact that you'll need warmer clothes and gear).
Camping in winter in the Colorado Rockies, on the other hand, is a completely different ballgame than summer camping in the Rockies. It involves deep snow, ice, unpredictable weather, and extremely cold temperatures. Wherever you plan to camp for your first winter camping trip, be sure to check the forecast beforehand, so you have an idea of the weather you'll likely encounter.
Now, regardless of where you're headed, let's discuss some of the winter-specific camping gear you'll need.
Waterproof Jacket and Pants
Every winter camper needs a waterproof, windproof outer layer for their upper body. This can be a lightweight shell that you can layer over a flannel or other non-waterproofed jacket, or a bulkier down or synthetic jacket with a waterproof outer built into it. Waterproof pants are always a good idea if you're camping in snowy conditions, but if you don't expect to be tracking through snow, it's probably best to go with a lightweight but sturdy pair of moisture-wicking hiking pants. You'll layer thermal long johns under these to add warmth.
Thermal Underlayer
Underneath your outer you'll probably have a warm flannel, lightweight down jacket, or something else, depending on the conditions, but beneath that comes the most critical component of winter apparel: a base layer. This can be a pair of cotton or synthetic long johns, but needs to consist of a full long-sleeve upper and a full-legged lower. These are worn underneath your pants and jacket at all times, and provide crucial warmth particularly at night.
Winter Boots
Those below-the-ankle hiking shoes you use in the summer aren't going to cut it for winter camping. You'll need sturdy, high-topped boots, with either a leather or synthetic waterproof outer to keep snow and other moisture from getting into the interior. Wet feet when hiking is the quickest path to blisters, and in winter wet feet will also lead to frostbite if you aren't careful.
Ensure your boots are rugged and warm, above all else, but don't forget to look for something that offers breathability if you're going to be doing any high-energy activities, like hiking or snowshoeing. If you're winter car camping and sticking mostly around the car, hanging out above an ice fishing hole, or spending most of your time perched in a hunting blind, for example, then breathability is less of a concern. You'll want to focus mainly on warmth and weatherproofing.
Snowshoes
Snowshoes are crucial if you plan to be hiking or camping in snowy terrain. We offer an extensive collection of snowshoes and snowshoe bundles (poles and carry bag included) for all ages and weights. You can find more about the Best Snowshoes of 2021 here.
Cold Weather Sleeping Bag
Sleeping bags are rated based on temperature. You'll need a sleeping bag rated to tackle the temperatures you plan to encounter (again, winter temperatures vary depending on where you are), but for winter camping, you'll probably want something rated for at least 20℉ or under.
Our Woods ARCTIC Logan Lightweight Mummy Sleeping Bag, for example, comes in both 10℉ and 20℉ models. We offer a variety of other sleeping bags, ranging from the 5℉ Woods Heritage Cotton Flannel Camping Cold Weather Sleeping Bag to the 43℉ Outbound Compact Ultra-Lightweight Camping Sleeping Bag.
All of the above are important components of any winter camper's kit, but the biggest, and most important piece of gear you'll need is a tent.
How To Choose the Best Tent for Winter Camping
Most camping tents are classified as either "two-season," "three-season," or "four-season." This refers to the seasons they can be used in. Two-season tents, like our Outbound Backyard Festival Tent, are well-ventilated and will hold up in warm summer and autumn conditions, but generally don't feature much weatherproofing. Three-season tents, like our Woods Lookout 4-Person Tent, incorporate both weatherproofing and ventilation, so are good for spring, summer, and autumn.
Four-season tents, meanwhile, are made to keep you protected and warm year-round. These are the tents you want to use in winter. The Woods Pinnacle Lightweight 2-Person 4-Season Tent (also available in a four-person model) is one of the best tents for winter camping. If you're heading on a cold-weather camping expedition, the Pinnacle is the tent you want in your pack.

Insulation

Most four-season winter camping tents should provide weatherproofing and insulation on their own. You shouldn't have to worry about how to insulate a tent for winter camping, unless you're using a tent that isn't really designed for winter camping (such as a three-season tent), which is a bad idea.
That said, you can do some things to keep yourself warmer inside your tent, such as choosing to use a sleeping cot instead of a sleeping mattress, which will keep you up off the cold ground. You can also bring a space heater to keep warm inside the tent, or couple your winter camping tent with a stove (just remember to keep the tent well-ventilated to avoid carbon monoxide poisoning).

Waterproofing

You should only need to waterproof your tent if it's showing signs of failure, such as peeling on the tent interior or water seeping through the seams. This won't happen until the tent has seen many seasons in the wilderness, but it can occur. Luckily, you can use sealant to repair delaminating seams and technical waterproofing to repair the durable water repellent (DWR) on the tent fly and ground cloth, or footprint. The steps vary depending on the waterproofing material you use, but it's a fairly simple process, and well worth doing if you notice that your tent is starting to leak or delaminate.

Ventilation and Condensation

Cold weather tents should provide adequate ventilation so that heat and moisture don't build up inside the tent. With our Woods Pinnacle Lightweight 2-Person 4-Season Tent (and the four-person model), ventilation and excessive condensation is of no concern, thanks to breathable no-see-um mesh panels coupled with a durable ripstop polyester shell that stops snow, rain, wind, and ice with aplomb.
Winter Car Camping: What You Should Know
If you're winter car camping or winter RV camping, you have a lot more flexibility as far as what you can bring. You'll be able to bring plenty of fuel for your stove(s), firewood, spare flashlights and lanterns, extra socks, warm blankets, extra sleeping bags, and any gear that may or may not be superfluous for a backpacking trip, just in case.
The general rules for winter camping still apply, and there's not much else you need to know specifically about winter RV or car camping. That said, as a rule of thumb, when you have the space and accessibility of a car or trailer, you should bring as much warm gear and fuel as you can. There's simply no reason not to!
Best Destinations for Winter Camping in the USA
Winter camping can be done anywhere, but if you're looking to escape the crowds and get off the beaten path, heading to the beach or the desert is a great choice, since these regions are often less-visited in winter months. Here are three excellent little-known sites for winter camping in the United States.
Dead Horse Point State Park, Utah
32 miles outside of Moab, Dead Horse Point State Park is a gem in the winter. Temps drop into the 20s at night, but the usual summer crowds are scarce. There's a plethora of hiking and mountain-biking tracks here, and over 50 campsites ($40) spread between two separate campgrounds. Dead Horse Point is also unique in that it's considered an "International Dark Sky Park," so it has incredible stargazing. The Colorado River cuts through the park's main canyon, providing a bite-sized "Grand Canyon" feel. The famous Arches and Canyonlands National Parks are also a short drive away.
Harris Beach State Park, Oregon
Campsites at Harris Beach State Park ($35) are offered on a first-come, first-served basis in winter. It's quite cold here in December, at least compared to the balmy summer temps, but it's peaceful, quiet, and still much warmer than many other winter destinations. The beach is mere steps from the campsites and offers tide pools, gray whales sightings, and bird watching. Goat Island, a national wildlife sanctuary and the largest island off of Oregon's coast, is visible from the beach.
Organ Pipe Cactus National Monument, Arizona
Deep in Arizona's southernmost reaches, the cactus-studded landscape of Organ Pipe Cactus National Monument is a mere two hours from Phoenix, but feels like a whole different planet. Two campgrounds are available here. Alamo Campground offers four first-come, first-serve primitive tent sites. Twin Peaks Campground is reservation-only and features over 200 RV-friendly sites. A handful of backcountry sites are also available at Organ Pipe for those that want to hike a few miles into the park.