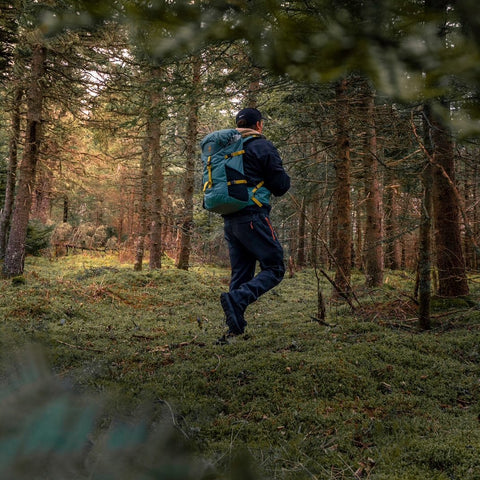 Hiking in the Spring: What You Need to Know
What You Need to Know about Hiking in the Spring?
Hiking in the spring is a unique experience. The forest is coming back to life, new plants are blooming, and animals are waking up from winter hibernation. Birds are chirping, flowers budding, and warm sunshine is taking the place of the frosty winter. Hiking in spring is an excellent change of pace after a long winter trapped inside by snow and cold temperatures. But spring isn't all warm sunshine and colorful flowers. There are plenty of hazards you need to watch out for while hiking in spring, just like any other season.
How to Prepare for a Spring Hiking Trip
Whether you're camping in spring or simply heading out for a day-hike, preparation is crucial. Weather, trail conditions, and the status of your equipment should all be checked before heading out on a spring hiking trip.
Weather
You might think winter weather is bad, but in truth, spring weather is more volatile than any other season. While it might not be as cold consistently as winter, it can vary widely. Conditions can change dramatically in just 30 minutes. You might have rainstorms in the morning, clear, warm skies at midday, and bone-chilling winds as evening approaches. Depending on where you're hiking, spring temperatures can vary widely. It might be 70 degrees in your town, but once you hike a few miles up into the mountains, it could drop into the 40s.
The point is: You want to triple-check the weather before heading out for a spring hike, and even if sunshine is in the forecast, bring a rain jacket just in case. In particular, check forecasts for your specific destination and elevation. Temperatures and weather will often vary dramatically over a 1,000-foot elevation differential, so if your hike involves a lot of hill climbing, you could experience multiple different weather patterns all in a single day's worth of hiking.
Rain is incredibly common during spring. Bring full-body rain gear (rain jacket and pants) and a pack cover for any spring hiking trip. If you're camping, make sure your tent fly is in good condition and that you know how to properly set your tent up.
Trail Conditions
In early spring, just as the forest is returning to life, the trails are returning to life, too. After a long winter of little traffic and perhaps little to no maintenance, hiking trails in spring are typically in poor shape. Spring is notoriously rainy, and snow is melting rapidly, too, so trails are often washed out in early spring.
Don't rely on online trail reports because they're user-generated and most hikers and campers simply aren't out and about in spring. Last fall's trail reports won't be accurate, so don't waste time with them. Instead, call the state or national park office where you'll be heading, and ask them about conditions for the most accurate report.
Gear
Most spring hiking trips arrive after a long winter hiatus, so your gear might not be in the same shape you remember it being in last fall. If you've been spending the winter cozying up around a warm fireplace, avoiding the snow and ice, then your spring camping trip might be your first outing in a long time, and you need to double-check your gear before your first trip of the season. Check for mold, tears and holes in your sleeping bag and tent fabrics, and any other points of deterioration in your equipment and apparel. Make sure your stoves and other cookware are in prime shape, too.
Animals and Insects
Animal activity peaks during the spring. Bears are coming out of hibernation after a long winter. Deer, elk, and other foragers are active, and many animals are giving birth to their young. This makes spring hiking trips wonderful for wildlife viewing, but you still need to give animals plenty of room. If you see an injured animal, for example, call a park ranger, but don't try to deal with it on your own.
The same goes for young animals who appear to be alone. Don't approach! Often their mothers are nearby and can become aggressive if they believe you're threatening their young. To avoid any unpleasant encounters with animals, keep your campsite clean (if you're hiking overnight) since bears and other scavengers are more active during spring.
Depending on the location of your hiking trip, you may be required to use a bear canister, hang a bear bag, or stow your food and other smellables (such as toothpaste, perfume, and lotion) in a dedicated bear locker.
Just like there are more animals out in spring, there are also plenty of bugs out, too. Spring showers and increased moisture after the winter dry season makes for lots of standing water, attracting mosquitoes, flies, and other insects. Even if it won't be cold, consider wearing pants and long sleeves to ward off bugs. Also, come prepared with DEET-based bug spray, and perhaps even mosquito nets, if you're particularly sensitive to bug bites.
You may not end up needing the spray, but if there's one season where you shouldn't leave home without it, it's spring. Just like with animals, keeping your campsite and your cooking area clean of trash and food waste will help to minimize insects.
Finally, remember to check your body for ticks, leeches, and other hitchhiking bugs when you return home. Ticks can carry a variety of bloodborne illnesses, such as Lyme Disease and Rocky Mountain Spotted Fever, so it's important to remove them as quickly and carefully as possible if you do get bit.
Best Equipment for Spring Hiking
Outbound Single Burner Portable Camping Stove
The Outbound is our premier lightweight backpacking stove. This single-burner propane stove is constructed from durable, chrome-plated steel. It features a retractable heat-resistant plastic base for stability on a variety of uneven surfaces, and holds pots or pans up to 10 inches in width. With an output of up to 10,000 BTUs, the Outbound can cook in cold weather and at high altitudes without a hitch. The adjustable burner control allows for precise temperature and cooking versatility. The stove system weighs under two pounds and offers over two hours of burn time (using a 16.4 oz propane cylinder).
Woods 15 oz Vacuum Insulated Stainless Steel Tumbler
Constructed using fully insulated, food-grade 18/8 stainless steel, this tumbler features a comfortable rubberized finish for easy grip. Whether you're looking to keep your drinks cold or warm, this 15-ounce (capacity) tumbler will get the job done. At only 7.37 ounces (weight), it's easy to carry in hand for casual hiking trips.
Woods Single Backpacker Camping Hammock with Tree Straps
This ultralight hammock is great for backpacking or for taking a break during a casual day hike. It includes eco-friendly tree wraps and a carry bag for easy storage and transportation and is built from durable, ultra-light parachute nylon.
The integrated stuff sack doubles as a pocket for small valuables while the hammock is in use. With a 220-pound capacity, this hammock is burly enough for kids and adults alike and is extremely easy to set up in less than a minute. The total weight of 1.75 pounds, makes it an ultralight addition to your hiking pack.
Cooking for an Overnight Spring Hiking Trip
Camping in spring, particularly early spring, is often much colder than you might think. Heavy snowpack and rain are still common in spring. You're more likely to get hypothermia when you get wet at moderately cold temperatures (35–50℉) than when you're dry at much colder, sub-freezing temperatures.
So, just like during a winter camping trip, you should cook meals that are warm and liquid-based for adequate hydration. Oatmeal or porridge for breakfast is a great option. Dinners of soups or stews, chili, and other hot liquid foods are also always a good idea during cold weather spring hiking trips. Don't just bring water, either. Bring instant coffee, hot tea, and hot chocolate for added warmth as well as hydration.