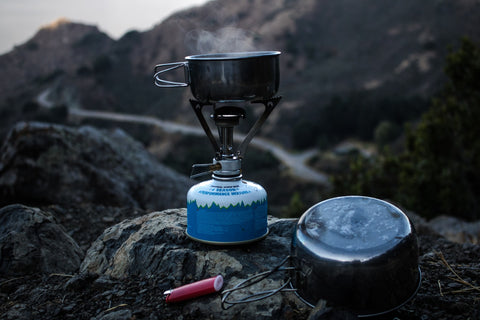 Ultimate Camping Kitchen Essentials List
Ultimate Camping Kitchen Essentials List
Remembering to bring your camping kitchen essentials is critical when it comes to an enjoyable camping experience. Without a properly-stocked camp kitchen, you won't be able to cook decent food while camping, or maybe even any food at all!
The essentials for a well-stocked camping kitchen vary depending on the type of camping trip you're taking, but for most base camps or car camping trips, you'll at least need a camp stove, camp cooler, camp cookware, cooking accessories, and tableware. In this article, we'll go over all these essentials and give a few other tips, such as how to find the best camping tables, how to store your kitchen supplies, and more.
What are the Most Important Camping Kitchen Essentials?
Whether you're looking for an RV camping kitchen essentials list, or kitchen gear for a standard car camping trip, the list of essentials is quite similar. As long as you can carry your gear in your car to your campsite, or the approach to your site is quite short, this list of kitchen essentials is everything you'll need.
Note: The only time you'll vary from this list is if you're going backpacking, in which case you really only need to bring a small backpacking stove, fuel, and a mess kit.
As mentioned above, the basics are a stove, cooler, cookware, accessories, and tableware. Let's break it down.
Camp Stove
The camp stove is the cornerstone of any camping kitchen. Camp stoves can vary from powerhouse two-burner stoves, able to keep up with your kitchen at home, to compact, lightweight single-burner stoves. The latter are perfect for solo trips, backpacking, or any outing where you only plan on boiling water, cooking soup or other liquid food, and eating dehydrated meals.
Some stoves, like our 2-in-1 Grill & Burner Propane Camping Stove, offer added functionality of having both a traditional propane burner and a grilling surface suitable for frying bacon or cooking burgers. We also offer a multi-fuel camping stove which allows you to power it with isobutane, propane, or butane fuel.
The best camping stove for you depends mostly on your situation. Are you going to be hiking far to get to your campsite? What sort of meals are you hoping to prepare in the backcountry? Are you going to be cooking for only yourself and a partner, or for a larger group? Take questions like these into consideration before you make your decision.
Camp Cookware
Even if you have a top-notch camping stove, you won't be able to whip up any delicious camp food without reliable camp cookware. The best camping cookware is durable, lightweight, and compact. You also want a single cohesive cookware set so that your pots, lids, and pans fit together, and can pack into each other for easy storage.
Cookware collections like the Selkirk Anodized 4-pc Camping Cook Set include everything you need to cook all sorts of camping meals, from oatmeal, to pasta, to stew, to pancakes. The set, which weighs only 2.7 pounds in total, includes two pots, two lids, a frying pan, and a kettle, all packable down into a small mesh carry bag. Meanwhile, the lightweight Nootka Anodized 5-pc Camping Cook Set is a mere 1.9 pounds, providing enough functionality for two-person trips while remaining extremely compact. We also carry a burly cast iron set, perfect for frying, baking, stir-frying, and roasting, with a stylish vintage wooden storage box.
Cooking Accessories
Cooking accessories can go a long way towards improving the quality of meals you make, and the ease of the process of making them. Here at Woods Canada, our Cast Iron Long Handle Double Camping Cooker Pie Iron is one of our fan-favorite cooking accessories. This pie iron offers a large cooking area ideal for grilling steaks, chops, hot dogs, sausages, hamburgers, and even toasting sandwiches over the fire. It can be placed either over an open flame or nestled between coals. The long wood handles are guaranteed to stay cool no matter the temperature, letting you reach over the open fire to grill up all your camp delicacies, from scrumptious grilled cheese to juicy steaks.
Our Ritual Camping Coffee Maker Set is another excellent accessory. This set includes an anodized aluminum coffee press, stainless steel coffee grinder, and zippered carry bag, giving you everything you need to make coffee in the backcountry.
Camp Cooler
A proper camp cooler is essential if you're going to be cooking perishable food on your trip, and especially if you want to camp for more than a couple of days. Meats, fish, dairy products, vegetables - if you want to bring this food with you on a camping trip, then you'll need a cooler to keep it from going bad. A camp cooler is also great for keeping juice, beer, and other drinks cool. Nothing is worse than coming back after a long day on the trail and finding that your beer is lukewarm.
Camp coolers vary in size from large, hard-shell coolers capable of holding 45 to 70 quarts, if not more, down to small hand-held coolers or soft-shell coolers suitable for keeping a six-pack or a single meal or two cold. Again, you only need to think about the camping trip you're heading on: how many meals do you need to cook? How far will you have to carry the cooler?
Tableware
You can't prepare meals or eat them without camping tableware. At a minimum, every camper should have his or her own mess kit, which generally consists of a bowl, mug, and utensils (spoon, fork, knife, or a combination 'spork'). Collapsible rubber bowls and mugs are favored by some due to their lightweight, compact design, but they're also generally flimsier and harder to clean. Others prefer rugged ceramic bowls and mugs, which are more sturdy, but bulkier and heavier. In addition to personal utensils to eat with, depending on the meals you're cooking, you also may need a spatula, ladle, steak knife, or other cooking utensils to prepare the food itself.
What Extra Gear Should I Bring?
Again, the extra gear you need depends on your objective. One common item that can help improve your camp kitchen is some kind of stationary illumination, like an LED lantern (or set of lanterns), to light up your cooking surface and to gather around while you eat. An ax with which to chop firewood, if you plan on cooking over a fire, is also important, as is a lighter, or flint and tinder.
Other common camp kitchen items you may want to consider bringing include:
Water pump (or another method of water filtration and/or purification, such as purifying tablets)
Water storage container (such as a three-gallon jug)
Camping table (see below) to eat around and to prepare food on
Camping chairs to sit in while eating
Fuel for your camp stove, and a method of ignition (i.e. matches or a lighter)
Rainfly to provide cover for your camp kitchen in case of inclement weather
Storage bins for dry food, canned goods, and other non-perishables, as well as your stove, fuel, and other kitchen equipment
Dish soap, a rag, and/or a brillo pad to clean your dishes (and wash your hands before eating)
Insulated tumblers to keep beer, hot chocolate, coffee, and other drinks either cool or warm
How to Choose a Camping Table for Cooking
The best camping table for cooking depends on the style of cooking you'll be doing. For one or two-person missions, the compact Woods Folding Camping Table will probably suffice – but, we'd be remiss to not mention that the Woods Caledon Folding Portable Kitchen Camping Stand is perhaps the best table purely for cooking. The aluminum top is durable but easy to clean, perfect to house your camp stove, while the extendable side tables offer ample space to prep and cook a variety of delicious meals. Two shelves underneath give you easy access to ingredients, pots, pans, and storage containers. Best of all, the entire table collapses down and comes with a compact carry bag to store and travel with it.
Meanwhile, if you're serving food to a large group, the Woods Folding Portable Camping Table Set with 4 Camping Chairs is a stellar option, with four folding stools and a heat-resistant tabletop material that won't get hot the way traditional metal surfaces do under the summer sun. You can find an extensive list of our Camping Tables and Chairs here.
How to Store Camping Kitchen Essentials Properly
Storing your camping kitchen essentials is important, particularly if you're expecting inclement weather. You also have to watch out for wild animals which will look to your camp kitchen as a primary source of food. In bear country, be sure to follow proper regulations, either using bear canisters or hanging bear bags as directed by local wilderness authorities.
Even when not in bear country, it's a good idea to make sure all food, cookware, and other smellables (toothpaste, deodorant, etc.) are stored in a secure location, such as a sealed storage bin or inside a hard-shell cooler, so that small critters, like squirrels and raccoons, can't access it. It's also important to keep your cooking gear outside of your tent to avoid any wildlife trying to scratch its way inside to get at your food. If inclement weather is looming, you can store food and cooking gear inside the rainfly, but remember at the very least to keep it outside the tent body, in the vestibule.