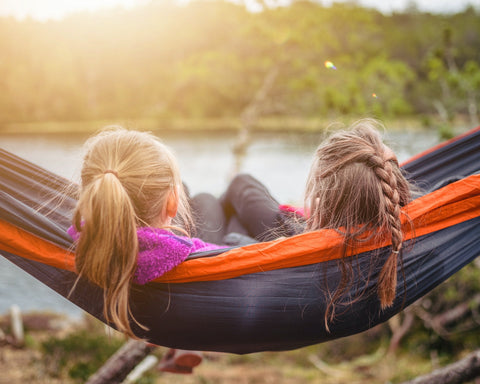 The Basics of Camping with Kids
The Basics of Camping with Kids
Every camping trip requires planning and preparation, but when camping with kids, this is more important than ever. When kids are coming on your camping trip, you don't just need to look out for, feed, and provide shelter for yourself - you also need to look out for them. From location, to equipment and gear, to clothing, to food, you need to plan your trip with extra care to make sure you keep your kids safe and happy.
Nothing is worse than unhappy kids, and the rugged nature of the outdoors can act as a breeding ground for tired, worn-out children and a fuss you aren't prepared for. In this post, we'll cover how to prepare for a safe, enjoyable camping trip with little ones in tow, and talk about exactly what to take camping with kids.
Why Location is Critical
Perhaps with more care than any other factor, you should choose your location wisely when camping with kids. The best places to go camping with kids depend primarily on the ages of the kids you have with you, but generally, you want locations that are accessible (i.e. not overly remote), with reliable access to running water, shade, and a flat, dry location for your campsite. If you're camping with a large group, and have very young children with you (or otherwise inexperienced campers), you might also want to also ensure you have reliable cell phone reception at or near your intended campsite, in case of an emergency.
Weather plays a major role in determining the best places to go camping with children. In the late autumn, winter, and early spring, take extra caution to avoid campsites that could be prone to high winds, such as the shores of bodies of water, high ridgelines, and other exposed places. Likewise, in the summer, take care to avoid campsites with little to no shade, and plan your trip according to seasonal weather patterns. Joshua Tree National Park, for example, is extremely hot in the summer, and not a safe place for a camping trip with children, but it's an excellent place to camp with your family in the fall and winter.
Things to Do While Camping with Kids
One key to having an enjoyable camping trip with kids is planning the right itinerary. Kids are energetic and rambunctious, and most aren't going to be satisfied with sitting around in camping chairs talking or relaxing all day long. One of the best tips for camping with kids is to structure each day around a variety of activities to keep them engaged. Here are five great ideas:
Play Card & Board Games
Almost all kids, no matter their age, can enjoy a fun board game. For younger children, simple games like Go-Fish and Old Maid will suffice, while older children may enjoy more complex games, like Clue or Monopoly. If that fails, chess and checkers are always great options. Just make sure you have a good camping table to play your games on!
Tell Roast Marshmallows & Tell Scary Stories
No camping trip is complete without everyone gathering around a roaring fire, roasting marshmallows, and telling stories. Our Woods Cast Iron Long Handle Double Camping Cooker Pie Iron is a great addition for fireside gatherings, allowing you to cook scrumptious food like steaks, chops, hot dogs, sausages, hamburgers, and sandwiches over the fire.
Go Swimming
Swimming is an excellent way to tire your kids out and ensure they sleep soundly at night. A nice afternoon swim is also the perfect way to cool down during a hot summer camping trip.
Practice Knot Tying
This one might seem a bit unexpected, but knot tying is both engaging and useful. Even the youngest children will enjoy learning practical knots like a two-half hitches, double fisherman's, square knot, and taut-line hitch, and after everyone has practiced, you can have a little knot tying competition, too!
Play Capture the Flag, Freeze Tag, and other Outdoor Games
The woods are a perfect setting for a variety of outdoor sports and games that kids love. From capture the flag, to football, to hide-and-seek, the list of games you can enjoy with your kids while camping is endless, and like swimming, these fun games are another great way to make sure your kids get all their energy out during the day and are ready to wind down at night.
Be Prepared: Camping Checklist with Kids
The list of camping gear you need when camping with kids is mostly the same as the gear you need when camping with adults, but there are a few essentials that can come in handy when you're out in the wilderness with kids, in particular.
When camping with kids, dining on minimalist, bland meals like oatmeal, beans, and rice won't cut it, unless you want to have disappointed children on your hands. Bring a spacious camp cooler so you can store and prepare food your kids will enjoy; for the same reason, large, twin-burner stoves are a must-have so that you can cook quality meals.
The best tents for camping with children are large, spacious, and durable. Even though kids are smaller than adults, they tend to toss and turn more in their sleep, and have much more energy, so extra space in the tent is always welcome. Check out the extensive catalog of Woods Canada Tents and Shelters today!
Camp chairs and tables are really helpful when you have kids camping with you. Having a chair and table gives them a place to sit down and eat their food, so they don't spill everywhere, and also gives them a place to rest during a long day.
In addition to the above items, utility wagons are also great for packing in all your supplies, and lanterns are a must-have to provide lighting in your tent and around the table, especially if you're camping in an area with a fire restriction. We'll go over a few top picks for camping with kids below.
Camping with Kids Product Spotlight: Woods Outdoor Collapsible Utility King Wagon
Utility wagons are a great asset when camping with kids, since they allow you to lug all the extra gear and supplies you need which your little ones, of course, can't carry. Our Outdoor Collapsible Utility Wagon has a large capacity, with dimensions measuring 39.5" x 21" x 26" and an overall weight-bearing load of 225 pounds. The heavy-duty frame sports rust-resistant steel, with 8.5" blow-molded wheels that include rubber inserts for durability. The wagon is also completely collapsible for easy storage and transport, with a carry bag included.
Camping with Kids Product Spotlight: Woods Outbound Twin 2-Pack Air Mattresses
Comfort is key when camping with kids, and these lightweight, compact air mattresses offer maximum comfort with minimal weight. These mattresses aren't just lightweight and compact, but durable, and entirely waterproof. They also come with a heavy-duty repair patch in case of any leaks. Each features stout coil-beam and vinyl builds, offering little ones a restful night's sleep. They are easy to store in the car, in a tent, or at home, and are also great for backyard trips and sleepovers. The vinyl coating makes them extremely easy to clean with a damp cloth, so you don't have to worry about spills.
Camping with Kids Product Spotlight: Woods Outbound 10-Person 3-Season Instant Pop-Up Cabin Tent
One of the most stressful parts of camping with kids can be setting up your tent. If you have a complicated tent that requires a bit of time and effort to set up, doing all that with your kids complaining, or roughhousing around you, can be extremely difficult. Spacious pop-up tents like the Woods Outbound 10-Person 3-Season Instant Pop-Up Cabin Tent are godsends in these situations, with a massive interior with space for up to ten campers, and a rapid fiberglass "Easy-Up" frame system allows the tent to pop up almost entirely on its own.
The tent also has five built-in zipper windows in the interior, with a mesh see-through roof for excellent ventilation and stargazing, and a heavy duty 600 mm rain fly with a front vestibule that provides top-tier protection from the elements.
Frequently Asked Questions
What is a good age to take a child camping?
You can take children of all ages camping, depending on the environment. If you're car camping and have a spacious, luxury tent like our Outbound 10-Person 3-Season Instant Pop-Up Cabin Tent, you'll have plenty of room to take care of an infant, changing diapers and so on, and the instant pop-up style setup makes it hassle-free even if dealing with a small child.
That said, if you're taking young children camping, try to limit your initial camping trips to the fall and spring, which are milder seasons, with less potential for extreme heat and cold weather that can be dangerous for small children.
How can I camp with a toddler?
Camping with toddlers just means you have to ensure you keep them comfortable and safe. Bring a roomy tent, lots of camp chairs, warm sleeping bags, comfortable mattresses, a large stove with burner space to make quality meals, and a spacious, high-quality cooler that can hold all the food and drinks you need. In short, one of the best camping hacks with kids around the toddler age is simple: don't skimp on gear.
How to camp with kids during the winter?
Cold weather camping with kids is tricky, since it's imperative to keep them warm, as young children are quite susceptible to colds and other respiratory infections in the wintertime. The key is to purchase a warm, weatherproof tent that is made for four-season camping, and to bring lots of blankets and jackets. It's also helpful to plan warm meals that are high in fluids, such as soups and stews for dinner, and oatmeal for breakfast.