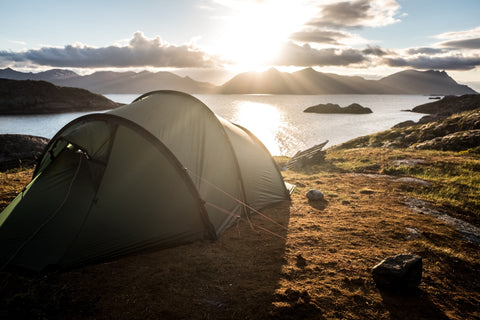 What is an Instant / Quick-Setup Tent?
What is an Instant / Quick-Setup Tent?
Instant, or "pop-up," tents are incredibly useful in a variety of camping situations. Let's learn a bit more about them.
Instant setup tents, or "pop-up" tents, are camping tents that allow for rapid, simplistic setup and takedown. Their streamlined, fast setup process makes these tents an excellent choice for backyard camping trips, mellow car camping trips to a local state park, and even beach days, other any other setting where you need to be able to rapidly deploy your tent without much hassle.
There are a variety of mechanisms by which instant setup tents operate, but generally, the frame is pre-attached, and the tent naturally "pops up" when it's unpacked. The materials and styles of quick setup tents vary, but the one common factor among all the best quick setup tents is that the tent requires minimal effort on your part to put it up.
Benefits of a Quick-Setup Tent
The benefits of a quick-setup tent are numerous. The most obvious and important, however, is that they can be put up and taken down rapidly and without hassle.
This makes them great if, for example, you have young children who are energetic and eager to get inside the tent. Nothing is worse than trying to set up a complex tent structure while you have little children complaining or racing around between your legs. With an instant setup tent, you can pop your tent up in moments, then move on to focus on other tasks as you start to set up your camp.
The best instant setup tents are also great if you have elderly campers, disabled campers, or anyone else who may need the option of accessing shelter quickly. It's also great to have a quick-setup tent if rain, snow, or other inclement weather is looming and you need shelter fast, or if it's extremely sunny and you want to get into the shade. Another situation where instant setup tents come in handy is if you arrive at your campsite at dusk or late at night, and want to quickly put up your tent and get to sleep, or if you just want to set up your tent quickly so you can focus on building a fire, cooking food, or performing other camping tasks.
Because their setup process is very streamlined and simple, quick-setup tents are also a great option if you're camping alone, or if, for whatever reason, you'll be setting up your tent alone, even if you're camping with other people (if they're arriving late, or focusing on other camp chores, like cooking or building a fire, for example).
How to Choose a Quick-Setup Tent
The factors you need to consider when choosing a quick-setup or instant tent are much the same as the factors you need to consider when choosing any tent for camping. You need to think about weight, packability, size (both packed size and interior space when the tent is set up), durability, waterproofing, and cost.
If you're car camping or setting up in your backyard, then weight and portability aren't real concerns. The best instant setup tents are quite durable, however, and rugged instant setup tents like our Outbound 6-Person 3-Season Instant Pop-Up Cabin Tent sport 600 mm rainfly coating that's stout enough to repel any inclement weather.
The good news is that quick-setup tents can run the gamut from six-person cabin-style tents all the way up to massive ten-person tents like this Outbound 3-Season Cabin Tent. Any feature you can find in a traditional camping tent can generally be found in the best instant tents. The main drawback is that quick-setup tents are designed to be deployed quickly, first and foremost. Portability and packability, as mentioned above, generally aren't major concerns when it comes to most instant and quick-setup tents. If you're backpacking, you may want to look for another style of tent, like our Woods Pinnacle Lightweight 2-Person 4-Season Tent.
Are Quick-Setup Tents Actually Easy to Set Up?
The short answer is: YES! The best quick-setup tents are extremely easy to set up. Our pop-up tents incorporate fiberglass "Easy-Up" frame technology that allows the tent to practically pop up entirely on its own. You can set these tents up in minutes, if not less. Our customers report taking only a couple of minutes to set up their Outbound Pop-Up Cabin Tents on their very first time using the tent.
If you're often setting up your tent alone, or if you need to set up a tent in the dark, in the rain, or any other difficult situation, then an instant tent is an excellent choice. These tents are, by far, the easiest and fastest style of tent to put together.
Best Instant Setup Tent - Our Top Choice: Outbound 6-Person 3-Season Instant Pop-Up Cabin Tent
We offer a slew of pop-up tents, including the Outbound 10-Person Instant Cabin Tent, Outbound 8-Person Instant Cabin Tent, and Outbound 5-Person Instant Cabin Tent, in addition to an Instant Pop-Up Canopy Tent, great for picnics, beach days, barbecues, and festivals.
That said, our Outbound 6-Person Instant Cabin Tent hits the sweet spot between size and packability, and is our top-rated Instant Setup Tent. This cabin-style pop-up is a best-seller, with a 4.4-star rating after over 58 reviews. The lightweight tent offers three-season shelter and sleeps up to six campers. It's constructed with our patented, "Easy-Up" frame technology system, which saves you time and lets you set up camp faster and easier.
The features five interior zipper windows built into the tent body, along with a mesh see-through roof that provides excellent ventilation, airflow, and stargazing opportunities. The tent outer is made with heavy-duty 600 mm rain fly, along with a front canopy that provides water and weather protection for cooking gear, shoes, and other equipment that needs to be kept out of the rain.
Meanwhile, the welded leakproof seams and polyester bathtub floor keep even the most extreme groundwater out and help you stay dry no matter what Mother Nature throws at you. The six-person capacity is enough to hold larger families but is also great for smaller groups who want a bit more room or need space for gear. Customers report setting up this tent in only a few minutes, even on their first time using it!
Frequently Asked Questions
Are Instant Setup Tents Easy To Carry?
Instant setup tents are usually no more heavy than traditional tents, though the focus is on convenience and ease of use, not minimalism and packability. That means these tents probably aren't your best choice if you're looking for a lightweight, ultra-packable tent.
That said, our instant setup tents are all relatively lightweight, so they're definitely easy to carry both to and from a campsite in car camping settings, or if you're setting up a tent for a picnic, beach trip, or backyard barbecue
Can I Set Up these Tents Alone?
Yes, you can definitely put up an instant setup tent alone. These tents are designed for fast, streamlined setup, so you can get your shelter in place without issue and focus on laying out your sleeping bag, inflating your mattress, cooking dinner, making a fire, or whatever other important camp tasks you have ahead of you. They're a stellar option if you
What is the Best Number of People for a Quick Setup Tent?
Although you can easily set up these tents by yourself (which makes them great if you're camping with children, the elderly, the disabled, or anyone else who can't lend a hand to help you set up the tent), quick setup tents can accommodate groups of all sizes. With that in mind, there really is no "best number" of people for a quick setup tent. As mentioned above, we have quick setup tents that range from 5-Person to 10-Person, so your group size doesn't matter. You can find the perfect quick setup tent no matter how many people you'll be camping with!