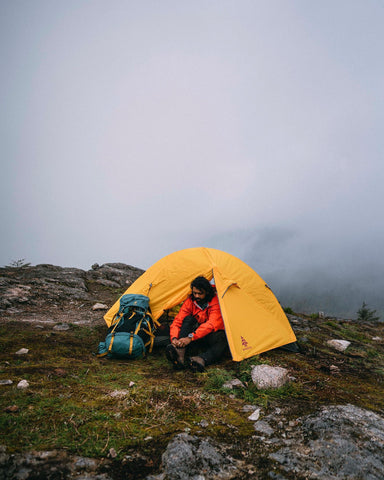 Extreme Camping Safety Basics
Everything You Need to Know About Extreme Camping
If pitching a tent on flat ground in the woods like any other camper just isn't exciting enough for you, you may want to try "extreme camping."
Extreme camping is a blanket term that can encompass a variety of camping activities. In short, extreme camping just means adding some element of danger or excitement to your camping trip. Naturally, extreme camping will require you to do more planning, be more experienced, and take more precautions than normal camping, so if you're still learning your way around the outdoors, try to get a few traditional car camping or backpacking trips under your belt, first.
Extreme camping is anything that adds risk or an edge to a traditional camping trip. This could be done by setting up your campsite in wild or inhospitable locations, like in a cave, desert, or on the side of a cliff. You could go camping in extreme cold weather or heat. You could go motorcycle camping, carrying all your gear on your motorcycle with you. You could go kayak camping, carrying all your gear on your kayak.
You could also limit your supplies for an authentic survivalist experience, à la Naked and Afraid, or head out camping with only the gear and apparel available in a specific period in history (sort of like a historical war reenactment or renaissance fair, but with camping).
When extreme camping, you'll need an array of specialized equipment, depending on the trip you're embarking on. If you're camping via canoe, kayak, or raft, you'll probably need dry bags and other waterproof containers to keep your supplies, gear, and apparel dry. If you're camping in the desert, you'll need to place an additional focus on sourcing water. If you're camping in the high mountains, you'll need to ensure you're prepared to deal with heavy snow and are using an extreme camping tent, like our 4-season Pinnacle Tent.
The idea of "extreme camping" encompasses such a diverse array of outings that it's impossible to tell you everything you need to know in a single article. The most important thing to remember is to only add additional risk or adventure to your camping trip if you're already experienced in the outdoors.
Be Prepared: What You'll Need
Here at Woods, we offer a variety of products that are suitable for extreme campers. The hostility of the Canadian wilderness, our home turf, means that we only craft gear burly enough to withstand extremely adverse weather and terrain. Woods has a storied history, designing gear for early polar expeditions and Himalayan mountaineering ventures, among other legendary exploits. These experiences, stacked over our 130-year history, have made us a brand with immense experience crafting gear and apparel suited for the rugged environs of the globe.
Woods ARCTIC™ Logan Lightweight Mummy Camping Sleeping Bag
This 4-season sleeping bag is an excellent choice for extreme camping in cold weather. It's both compact and lightweight, building off our storied heritage of making Arctic sleeping bags, and the very first "sleeping robe" in 1906. The water-resistant, lightweight, and durable 20D nylon shell combines with a 300D microfiber lining for maximum comfort. The mummy-style hood will cinch in around your head for added warmth, and with a 10℉ rating, this bag will keep you warm in the frostiest of conditions.
Outbound Single Burner Portable Camping Stove
When you're extreme camping, you need to pack light and move fast. The Outbound Portable Camping Stove is a single burner propane stove, built from rugged chrome-plated steel for long-lasting performance. The stove packs 10,000 BTUs of heat and features match lighting adjustable burner control, for precise temperature and cooking versatility, even at high altitudes.
Woods Pinnacle Lightweight 2-Person 4-Season Tent
The 4-season Pinnacle 2-person (also available in a 4-person size), is our most rugged, adventure-ready tent. This tent sports a large door for easy exit and entry with a vestibule for additional gear storage. Reflective piping makes for easy visibility at night, and ultra-strong PowerLight aluminum poles are both lightweight but strong enough to stand up to high winds, while a Ripstop polyester shell will keep out the elements, no matter the conditions or the season.
Best Places in the USA to Plan Your Extreme Camping Adventure
Zone of Death, Yellowstone National Park, Idaho
The 50-square-mile "Zone of Death" is a world-famous slice of Yellowstone National Park, on Idaho's border with Wyoming. Due to a loophole in the 6th Amendment to the U.S. Constitution, technically any crime, even murder, could be committed in the Zone of Death without conviction.As a result, the land is rugged and uninhabited, with no legitimate trails or roads. It's one of the only places in the continental United States that is literally "wilderness" without a legitimate rule of law (though no felonies have been committed there yet, so far as we know). If you fancy a seriously "extreme" camping adventure, the Zone of Death may be just your thing.
Death Valley National Park, California
Death Valley is the hottest, lowest, and driest national park in the United States. It's not just extremely hot, however. It's also incredibly remote, with little to no cell reception in much of the park. Death Valley makes for a great motorcycle camping or RV destination, though take extra caution if visiting in the summer, because temperatures often soar well over 120°F. There's still plenty to do, even in summer, however. A variety of short hikes such as Dante's Ridge, Wildrose Peak Trail, and Telescope Peak Trail will let you see the spectacular desert but from higher (and cooler) elevations.
Hawaii Volcanoes National Park, Hawaii
With eight backcountry camping sites nestled under two volcanos, Hawaii Volcanoes National Park may be the most extreme camping spot in the country, even if it will take a plane ride for most campers to get there. Camping under the mighty Mauna Loa (13,679 feet), one of the two active volcanoes that rise over the park, is the crown jewel of the experience. Mauna Loa, a shield volcano, is considered one of the largest volcanoes on Earth, by mass and volume, and last erupted in 1984. During your trip, be sure to hike to its summit, where you can stop in a small lodge on the edge of the caldera.
Frequently Asked Questions
What is the nicest campground in the United States?
It's hard to choose just one campground in the entire United States. However, Hidden Valley Campground in Joshua Tree National Park (California), Nāpali Coast State Wilderness Park, in Kauai (Hawaii), and Hither Hills State Park in Montauk (New York) are three of the parks that regularly top the lists. Watchman Campground in Zion National Park (Utah) and Echo Park Campground in Dinosaur National Monument (Colorado) are two more.
What is extreme camping?
Extreme camping, as noted above, is a blanket term used to describe a variety of styles of camping considered alternative, typically due to an added element of risk, excitement, or discomfort. Extreme camping could mean camping in high or low temperatures, traveling to camp via motorcycle, kayak, or raft, camping in an inhospitable location, such as inside a cave, on a cliff face, or high on a mountain, or camping with limited or primitive gear and supplies, like a survivalist.
Is wild camping legal in the USA?
Yes, wild or dispersed camping is legal in much of the United States. You can wild camp in any U.S. national forest or grassland and on the 245 million acres of Bureau of Land Management (BLM) land in the country, unless said land is otherwise marked, developed, or being used for an alternative purpose, such as cattle grazing or mining operations. BLM regulations, however, limit your access to a 14-day consecutive stay during any 28-day period.