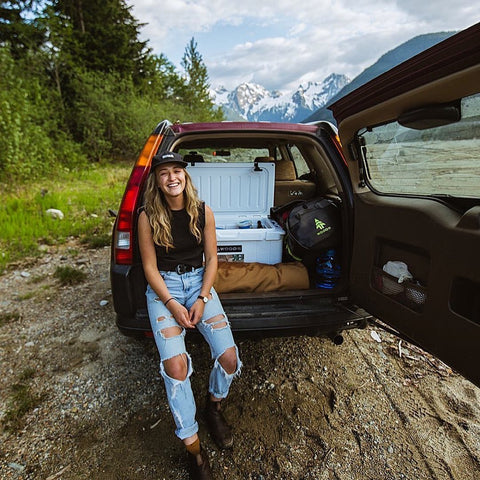 Best Long Weekend Camping Ideas
Long Weekend Camping Ideas
So, you've secured a long weekend. Congratulations! The hard work is out of the way. Whether you're taking advantage of a national holiday, you netted some time off work, or you're just rolling the dice and calling in sick… The important thing is that now you have time to head out camping!
Now, the question is: What do you do with that time off? What type of camping trip should you choose? The options are pretty limitless, but here are a few solid ideas to get you started.
Camp at the Beach
Camping on the beach is perhaps the most relaxing way to camp. Warm sunshine, sand between your toes, water lapping at the sand just a stone's throw from your tent, massive bonfires on the shore under the light of a full moon. It's all sublime.
Besides, you can't beat the sleep you'll get during a beach camping trip!
When you're camping at the beach, you want a shelter with maximum breathability. Chances are, you won't be dealing with any snow, rain, high winds, or other inclement weather (if that was in the forecast, you probably wouldn't have chosen a beach trip in the first place). So you can relax and simply focus on finding a breathable, well-ventilated shelter so that you don't overheat. There's no point heading to the beach unless you can enjoy that fresh sea breeze and warm sunshine! The other big concern is ensuring you have shade from the sun, but most shelters will provide that regardless.
Remember that staking a tent down in sand is nigh impossible unless you have dedicated sand stakes. Luckily, we make a beach-specific tent, the Outbound Oasis 2-Person Beach Tent & Sun Shade Shelter. This nifty beach tent features sand pockets along the sides and back to anchor it on the beach, even if it's windy. Meanwhile, built-in webbing loops on all corners let you anchor the shelter down on harder surfaces like your backyard and grass. Tents like our Easy Setup Canopy Tent or the Outbound Backyard Festival Tent are also great choices, though the latter is not freestanding and will need to be staked down or secured with rocks.
Go Backpacking
Backpacking is the purest form of camping. All your gear is on your back. You carry your shelter, stove, water, food, and everything else you need with you at all times. There's arguably no better way to experience the outdoors. Better yet, when you have a long weekend, you have more than enough time to dive into a real two-to-three-night backpacking trip, so you can clock some serious miles if you pack and plan correctly and are in good physical shape.
When backpacking, preparation is critical, perhaps more so than any other camping trip idea on this list. Don't just make sure you have all the camping essentials. Make sure your gear is stowed properly in your pack (heavy items as low as possible and close to your back), ensure you aren't hauling any superfluous items, and that your cooking list is dialed to a T. Remember, when you're backpacking, you can't just hop in the car and jet over to the nearest gas station if you forgot your firewood, water pump, lighter, can of chili, or that extra six-pack of beer. Once you pack into the backcountry, you're on your own.
That said, backpacking offers a decidedly remote, rugged, and authentic camping experience. So if you have the extra time afforded by a long weekend, a backpacking trip is a stellar choice.
Take a Road Trip
It's one of your first camping trips, you probably want to stick to car camping. This will allow you to bring extra gear like camping blankets and bulkier camping cots, air mattresses, or other luxury items that you can't bring backpacking, simply because they weigh too much and take up too much space, like camping chairs and tables. (For more on the Best Camping Tables of 2022, see our blog HERE!). This will dramatically increase your comfort while sleeping in the great outdoors.
Luckily, a long weekend gives you the time to get the ultimate car camping experience by embarking on a road trip. Whether you have two nights or three, a road trip allows you to experience more than one campsite, and more than one state or national park, during a single camping trip. You can sleep in the desert one night, then drive to the mountains the next. You might set up camp in a dense forest on Friday, then travel to soak up the sunshine at a nearby beach on Saturday.
One thing to keep in mind: Even though you'll be camping near your car, and weight or packability isn't a huge concern, be sure you've practiced setting up and taking down your tent in advance. If you're driving to a new park or campsite every day, you don't want to waste time taking down your camp slowly each morning. On that note, instant/quick-setup tents are a great choice for car camping. These tents pop up almost entirely on their own. That means less time messing with your campsite and more time out experiencing the outdoors.
Head Kayak or Canoe-Camping
A long weekend paddling trip is an excellent opportunity to try a different style of camping. Kayak or canoe camping is one of the most exciting ways to camp. (Just watch out for the banjos!)
Like backpacking, you'll carry all your gear with you, in this case, on your watercraft instead of on your pack. Still, it'll need to be compactly packed and pared down to only the necessities, since space comes at a premium on canoes and kayaks. You'll need to take additional care to ensure your gear doesn't get wet in case of splashes or a capsize, too. Bring dry bags for all your gear, and ensure it's securely lashed to your kayak or stowed in the bottom of your canoe. When out on the water, sun protection is crucial, so bring sunscreen and a hat. Also, carefully consider your shelter. As mentioned above, space is limited, and lightweight 2-person tents like the Woods Pinnacle are ideal choices for kayak camping.
Hike a Mountain
You don't have to be outfitted for the Himalaya, with rope and ice axes and a bristling, frosty mountaineer's beard, to climb a mountain. Depending on where you live, there are likely a variety of peaks within driving distance that can be summited with a simple hike during one of the days of your camping trip. If you have a bit of extra time to camp (such as over a long weekend) then framing your trip around a summit of a nearby mountain will add a sense of adventure and flavor that you won't get if you simply spend your days sitting around your campsite.
Before embarking on a summit attempt, ensure you're tuned in to weather predictions so you know what to expect. (Pro Tip: Always expect slightly stronger wind and slightly colder temps than the weather calls for). Unless you're an experienced outdoors enthusiast, avoid making your first few hikes in the mountains during the winter. Typically, warm, clear summer days offer the best conditions for a successful summit hike. Bring an up-to-date map of the area, and check in with local rangers before you leave the trailhead for current snowpack and updated weather forecasts. Even if you checked before you left, conditions can change on a dime in the mountains.