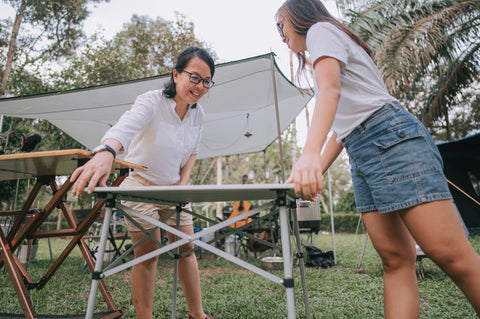 Best Camping Tables 2022
Best Tables for Camping
While tables aren't what most people think of first when they think of critical camping gear, the best camping tables are a must-have if you're interested in cooking high-quality meals in the backcountry. You can make field snacks, set up lunches, and prepare top-notch meals easily.
That said, a quality camping table can do so much more. Camping tables are also useful for card games, reading or journaling, getting work done, and organizing and prepping gear for your next adventure. Let's dive in and discover some of the best camping tables available in 2022, and learn more about how to choose the best one for you
How to Choose the Best Camping Table
To choose the best camping table, you have to think about a variety of factors, from your campsite topography to the number of people you plan on serving to the meals you'd like to prepare with your table. Here are some general questions to think about before you buy your first outdoor camping table.
How many people are you expecting?
Just like the number of guests will impact the number of groceries you need to buy, it'll impact the table size you need as well. If you're typically heading off with just a single partner, a smaller table will probably do the job. If you're going camping with a group of friends or bringing your entire family, then you'll need a bigger table, both to prepare larger quantities of food and to seat everyone when it's time to dig in. With that in mind, the Woods Folding Portable Camping Table Set is a stellar choice for large groups and seats up to four people comfortably (with four portable camp stools included).
How will you use the table?
You need to consider what you need the table for, as well. For example, some foldable tables have a small sink attached underneath them which can aid in cooking more complex meals and cleaning dishes. The best portable camping tables, meanwhile, are focused on being lightweight and packable, and so they're more suitable for snacking, card games, and basic meal prep. If you need a table purely for cooking (as opposed to eating) then the Woods Caledon Folding Portable Kitchen Camping Stand is an excellent choice.
What style of table will be most suitable for your camp?
Finally, you need to consider your usual campsites and choose a table that suits them. For example, the best camping tables for a family may need to be able to accommodate more weight and provide eating and seating space for up to three, four, or more people, which more lightweight tables may not be able to adequately provide.
Meanwhile, the best lightweight camping tables are very handy for longer trips where you may have to hike a bit from the car, or for remote, rugged campsites where there isn't an abundance of level ground to set up or support a table to set up a table. Of course, in these settings, you need to be sure you're buying a table that is stable, which can easily stand without extra support.
Types of Camping Tables
Camping tables differ in sizes, shapes, designs, and types. Don't worry, we'll give a breakdown of their differences and how they can individually serve your camping needs. Here are some of the most common types of camping tables you'll encounter:
Folding Camp Table
Folding camp tables are built with a strong but foldable design that makes it possible to fold them into simple, moveable shapes (generally in half, or in quarters). These tables are also lightweight and easy to set up with a step-by-step manual guide. Folding camp tables are very good because they are portable and can be set up (or taken down) quickly. The latter feature is particularly important if night is falling fast or if storm clouds move in, for example.
Side Camp Tables
Side tables are smaller, more compact tables great for a variety of settings. Side tables usually have a strong surface and a study bottom, giving them firm balance on the ground. They're generally the most packable and lightweight style of camping table. They're often made with foldable designs, and they can usually provide enough eating surface for at least one, if not two, campers.
So, let's talk about how we determined the best camping table for 2022. We considered four primary factors.
Versatility
Durability
Portability
Ease of Setup
For starters, our team looked at how versatile each camping table was, choosing only those that could serve multiple purposes such as cooking, dining, games, gear prep, etc. Also, we streamlined our recommendations to focus as much as possible on the burliest camping tables, ones that could hold up for camping trips for seasons to come. We also fine-tuned our listing with the best portable camping tables, ones that could be easily carried and packed without much hassle. Lastly, we considered how easy it is to set up and take down the tables in the field.
Now that all that's out of the way, let's dive into the best camping table for 2022.
Best Choice Camping Table
The best choice camping table overall for 2022 is the Woods Folding Quad Camping Table. Here's why it ranks ahead of some of the other best tables to take camping.
Lightweight roll-up slat design that allows it to easily fold up after use.
Portable and easy to carry from one location to another due to its compact design and weight.
It's firm and sturdy, providing a solid, level cooking surface.
The powder-coated steel frame makes it rust-resistant and improves its longevity even when used under harsh weather conditions, such as under direct sunlight or in the rain.
The aluminum tabletop minimizes weight while maximizing durability.
It comes with a ready-to-go bag which you can use in camp.
Best Camping Table for Cooking
Functions as both a kitchen cabinet and a picnic table.
The aluminum build makes it easy to clean after use.
Comes with expandable side tables which can be used to store kitchen utensils, drinks, seasoning, and recipes while you cook.
It has a sturdy top where camp stoves can securely sit.
It also comes with two shelves underneath, where you can place pots, pans, and containers.
The entire table can be collapsed and carried around in a camp bag, and at 16 pounds, it's fairly lightweight for the functionality you're getting.
So, there you have it, the best camping table for cooking for 2022. The Woods Caledon Folding Portable Kitchen Camping Stand gives you 100% utility; it can serve as a side table, or kitchen cabinet. Possibilities can be endless and only limited by your creativity and imagination. Also, we advise you to consider Woods Folding Portable Camping Table Set with 4 Camping Chairs.
Benefits of Camping Tables
Camping tables might seem superfluous to entry-level campers, but once you've dined on your fair share of deli sandwiches and dehydrated food, you'll want a surface where you can prepare a real meal when you're car camping.
Naturally, camping tables are useless for backpacking trips, but anytime you're setting up a base camp (whether you're fishing, hunting, climbing, paddling, or just hanging out), the best camping table will come in handy. Here are a few main reasons why camping tables are a solid buy
Cooking and Eating
Camping tables keep your food up off the ground and give you a level, stable surface to chop veggies, prepare raw meat, set dishes out to dry, and perform other basic kitchen functions. They also provide a much more comfortable eating surface than a rock, log, or your lap.
A Surface for Board Games, Journaling, and More
In addition, they can serve as tables for card and board games, reading and writing, catching up on work, and simply as a hub to gather around, which is especially important in lieu of fire (so, so many regions are under fire restrictions these days).
Organizing Gear and Supplies
Camping tables are also useful if you're on a hunting or fishing trip, climbing trip, or another trip where you're tackling an objective and have to prepare gear. I've used camping tables to organize trad racks, flake ropes, and so on while climbing, and they do a great job of keeping gear dry, organized, and up out of the dirt and leaves.
Frequently Asked Questions
What is the best camping table?
The best overall camping table is the Woods Folding Quad Table. It has a powder-coated steel frame that makes it hardy enough to handle harsh weather conditions and can be easily cleaned. It can only hold up to 66 pounds, which is more than enough for most purposes, but that's more than enough for most purposes. The aluminum tabletop is durable but light, and the surface is large enough to seat up to four people at a time. It is also sturdy, balanced, and packable, and perhaps most importantly, easy to set up and take down.
What is the most comfortable camping table?
Comfort isn't necessarily a major concern where tables are concerned (unless you're sitting on them, for some reason, which isn't recommended) but top marks in the comfort category go to the Woods Folding Portable Camping Table Set, simply because the four lightweight 600-denier polyester stools that accompany the table are much comfier than you might expect.
This quality multipurpose camping table is one of the most versatile camp tables on the market, as well, with a rust-resistant, powder-coated steel frame, heat-resistant tabletop, and four-person seating capabilities. At 220 pounds, it can hold food and gear alike.
What is the best material for a camping table?
It's hard to choose, and there are pros and cons to each material. In truth, you should do your research with your desired purpose in mind to make the best choice. In other words, do you want a hardy, weather-resistant table that will hold up to harsh conditions for years to come? Do you want a lightweight, packable table that you can easily throw in your car for a family trip to the local state park? Depending on your answer to those questions, for example, the "best material" for your camping table will vary.
That said, arguably the best all-around material for basic camping tables is aluminum. Aluminum offers a stellar blend between weight and durability and isn't as susceptible to burns as plastic or rubber, nor as susceptible to rust as iron or steel.