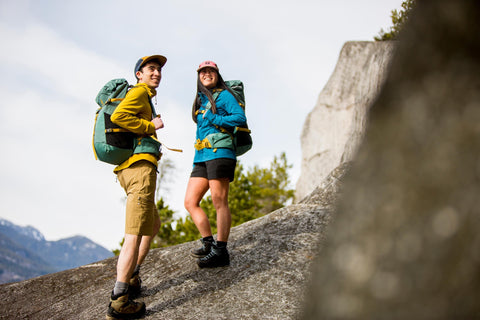 10 Best Spring Camping Destinations
Spring Camping
Spring is one of the most beautiful times of year to camp. It's not as cold as winter, but not as crowded and hot as summer, either. Flowers are blooming, rivers are flowing, the sun is shining, and frosty winter is melting away.
Whether you only have a long weekend or you have a full week of spring break to kill, if you've never gone on a spring camping trip, start packing and get out there! (But make sure to read these Spring Camping Tips first.)
Here are 10 excellent spring camping destinations to check out this year.
Buena Vista, Colorado
This charming little mountain town is an adventure-seeker's dream. Just 100 miles west of Colorado Springs (right on the other side of the Front Range and mighty Pikes Pike), this town of 3,000 people is surrounded by outdoor beauty. Home to over a dozen raft guiding companies, there's plenty of whitewater to tackle on the Arkansas River, from mellow Class I to insane Class V. April is the beginning of the whitewater season here, as the snowpack in the mountains around town is beginning to melt and rivers are starting to rise, making for bigger rapids and faster runs.
But there are plenty of opportunities for hiking, backpacking, mountain biking, and other adventures here in spring, too. The Sawatch Range, home to 15 of Colorado's 14,000-foot peaks, is just to the west of town, and the highest mountain in the state and the second-highest in the contiguous United States, Mt. Elbert, is less than an hour to the north. Just beyond Elbert and its sister peaks La Plata and Massive lies Independence Pass, a high-elevation road that stretches up to 12,095 feet (though it's typically closed until early summer).
Joshua Tree National Park, California
Sweltering in summer, Joshua Tree offers mellow temperatures in spring, perfect for hiking, horseback riding, and world-class rock climbing. The park is home to over 750 different species of plants, all of which come to life in the warmth of spring. At lower elevations, you'll find yellowcups, beavertail cactus, purple mat, and white blazingstars all coming to life, not to mention the classic Joshua Trees, which are found only in this region of the world.
Crooked River State Park, Georgia
The wetlands of Crooked River are a stellar destination for springtime camping, with a plethora of paddling opportunities along the pristine Georgia Coast and the swampy estuaries of the East River. If you're lucky, you'll come across otters and osprey in the marshes, dolphins, alligators, armadillos, and maybe even some wild horses. Veteran sea kayakers can even head out to the choppy sea on the Atlantic Coast, searching for shark teeth and sand dollars on the eastern shore of Stafford Island.
Valley of Fire State Park, Nevada
From Mt. Charleston to Red Rock Canyon, visitors to Sin City often forget the plethora of wilderness locations just a short drive from the Strip. Valley of Fire is perhaps the most beautiful park within driving distance of Vegas (maybe 45 minutes from downtown), with over 70 individual campsites, and, like Joshua Tree and many other desert parks, it's sweltering in summer but perfect in spring.
You'll likely come across bighorn sheep, cave drawings, and a variety of lizards and snakes, as well as the 40,000 acres of blazing red sandstone rocks that give this park its name. If you're lucky, you might stumble across some of the park's petrified trees, dating back over 2,000 years.
Gulf Coast, Texas
Spring breakers flock to the Florida Gulf Coast, but often forget that nearly ⅓ of the contiguous US' largest state, Texas, borders the Gulf as well. There are a variety of birdwatching festivals happening along the Texas coast in spring (birds are returning north after the winter), from the Port Aransas Whooping Crane Festival to the Galveston FeatherFest to Corpus Christi's Birdiest Festival in America. Over 700 species of birds either reside here in Texas or pass through at some point during the spring, so it's truly a birdwatcher's paradise. Even if you don't join up with a festival, bring a pair of binocs and you're sure to spot some yourself!
Tallulah Gorge State Park, Georgia
The 1,000-foot deep Tallulah River Gorge runs for over two miles and is one of the prime whitewater locations in Georgia (for experienced paddlers, that is). Springtime means dam releases, and that means lots of playboating and massive rapid (IV-V) paddling ensues. If you're less of a paddler and more of a spectator, you can head out to Inspiration Point or another overlook either on the north or south rim of the gorge to watch the action. There are plenty of tent sites to choose from, as well as RV and campervan hookups.
Hot Springs, Arkansas
The lively little mountain town of Hot Springs is at its best in spring, when the verdant hills are back to life and the thermal waters are flowing under warm, sunny skies perfect for hiking and bathing alike. Whether you want to ramble up to Hot Springs Mountain for a picnic or along the historic Bathhouse Row in town, Hot Springs offers a variety of sites from the most rugged outdoor jaunts to relaxing bathhouse days in town. It's the best of both worlds for a spring break trip. If you go, be sure to check out Superior Bathhouse, where you can drink beer brewed with thermal water straight from the local hot springs.
Iron Gate Campground, New Mexico
Nestled right outside the outdoor hub of Sante Fe, between aspen and pine at above 9,000 feet in elevation, Iron Gate Campground is an excellent getaway for spring breakers looking for a more rugged backcountry trip. Iron Gate is the best launchpad for trips into the mighty Pecos Wilderness, which boasts one of the highest concentrations of mountains over 12,000 feet in the region.
It's a stellar park for both backpacking, day hiking, and horseback riding, particularly in the mellow warmth of spring. Mountain wildflowers are also in full bloom this time of year, and the wide-open alpine skies, typically clear in springtime, make for excellent stargazing when the sun goes down.
Cape Lookout National Seashore, North Carolina
Just southeast of Morehead City, these barrier islands off the coast of North Carolina (only accessible via a three-mile boat trip) are home to perhaps the most remote beaches in the entire continental United States. Instead of the typical crowds of spring breakers and merchants hawking cheap "Spring Break 2022" shirts, you'll only see the occasional park ranger and maybe even the herds of over 100 wild horses on the island's Shackleford Banks. Ferries typically begin in early April, so this is the best time of year to set foot on the islands after a long winter free of other tourists.
Great Smoky Mountains National Park, Tennessee
With more than 1,500 different flowering plants calling this park home, in a swath of forest and mountains more than 500,000 acres in area, it's no surprise that the Smokies are the most visited national park in the United States, by far. Over 14 million visited there last year, alone, setting an all-time visitation record for U.S. National Parks (the second-place park, Zion, saw only 5 million visitors). In addition to the variety of flora, the park is home to plenty of fauna, too, including over 1,500 black bears!
In the warmth of spring, the park comes alive with color and smells. Like many of the national parks on this list, the Smokies are extremely crowded in the summer, but spring offers milder temperatures, more active wildlife, and lower crowds, to boot!