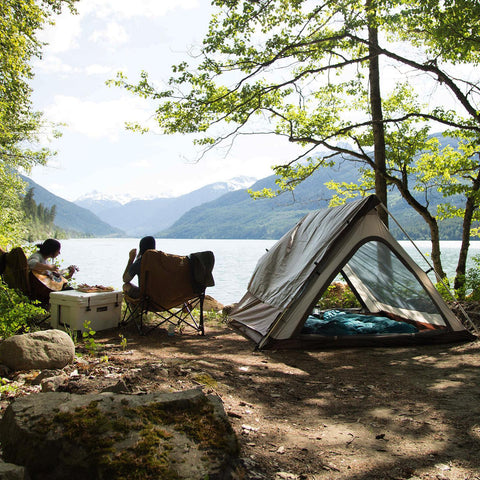 Top 10 Spring Camping Tips
Camping in Spring: What Should You Know?
The experience of camping in each season offers a unique appeal. Maybe you love the winter wonderland of January. Maybe you love the crunch of leaves underfoot as you ramble through the woods during an October trip. Maybe you love curling up on top of your sleeping bag on a warm summer night in July.
Or… Maybe you're heading out camping in spring!
Like camping any other season of the year, camping in spring offers a unique experience. New plants are blooming, birds are chirping, flowers are starting to bloom, and more. Many campers prefer camping in spring above all other seasons. That said, it offers unique challenges too. If you're planning a camping trip this spring, here are the 10 things you need to keep in mind.
Check Your Gear
Most spring camping trips come after a long winter hiatus. If you've been spending the winter cozied up around a warm fireplace, avoiding the snow and ice, then your spring camping trip might be your first outing in a while. That means you need to double, triple, and quadruple check your gear before your trip. Look for tears in your tent, holes in your sleeping bag, and other spots of wear in your equipment and apparel. Make sure your stoves and other cookware are in good condition, too.
Check the Weather Forecast
Spring is notorious as a season with more volatile weather than any other. You might have rainstorms one minute, clear skies the next, and high winds half an hour later. Temperatures can vary widely, too. It might be 70 degrees in your town, but it could drop below freezing in the mountains just 20 miles away. It's especially important to check forecasts for your specific destination and elevation. Temperatures and weather can vary dramatically just over a 1,000-foot elevation differential.
Watch Out for Wildlife
Animal activity is at a peak during the spring. Bears are coming out of hibernation after a long winter. Deer, elk, and others are active, and many are giving birth to young. This is one of the coolest things about spring camping, but you also need to give wildlife a wide berth. If you see an injured animal, for example, call a park ranger but don't try to deal with it on your own.
Don't come near babies, because many times their mothers are nearby, and won't take kindly to your interference. Also, keep your campsite clean, since bears and other scavengers are more active during spring.
Check the Trails
Trails in spring are often muddy and in poor shape, after a winter season of low traffic and infrequent (or no) maintenance. They can even be totally washed out after heavy spring rains and snowmelt. Many trail condition reports are especially unreliable in spring, too, because they're user-generated and most hikers and campers simply aren't out and about yet. Last fall's trail reports won't be accurate, so don't waste time there. Instead, it's smart to call the state or national park office where you'll be heading directly, and ask them about conditions.
Prepare for Rain
What's that saying? April showers bring May flowers, right? Well, it's true. You'll encounter more rain in spring than in any other season. Bring full-body rain gear (rain jacket and pants), bring a pack cover, make sure your tent fly is in good condition, and that you know how to properly set your tent up.
If you're camping with a large family or another group of people, then bringing a dining fly or other rain cover to gather under, a place where you can cook meals and play games together and stay dry out of the rain, is another excellent idea.
Prepare for Snow
Everyone expects a bit of rain in the spring. But depending on where you're going camping, you may need to prepare for snow, too. In high-altitude regions like the Colorado Rockies, for example, you'll often find snow clogging passes and valleys well into mid-summer. Oftentimes, the late spring months actually feature more snow accumulation than the dead of winter. Cross-country skis or snowshoes may be necessary to move across the backcountry even in late spring.
Bring Insect Repellent
There are more bugs and insects when you're camping in the spring than in any other season. The excessive rain and moisture result in multiple pools of standing water, which makes for a breeding ground for mosquitoes, flies, and other irritating insects. Wear pants and long sleeves, and come prepared with bug spray, and perhaps even mosquito nets, if you're particularly sensitive.
You may not end up needing the bug spray, but if there's one season where you shouldn't leave home without it, it's spring. It also helps to keep your campsite and camp kitchen clean of trash and food waste to minimize pests. Also, remember to check your body extensively for ticks when you return home.
Plan Your Meals
Camping in spring, particularly early spring, can be much colder than people think. Just like cooking during a winter camping trip, you'll want to prepare a roster of warm, hydrating meals. Dehydration is just as common in cold weather as it is in warm. Hot, hearty meals and beverages like oatmeal, soup, chili, coffee, hot tea, and hot chocolate won't just keep you warm, they'll keep you hydrated, too. As a result, they're excellent menu items both in winter and spring. The heavy amount of rain encountered in spring, too, will add to the cold, and make these warm menu items even more beneficial.
Watch for Hypothermia
Once again, spring is deceptively cold. In terms of pure numbers, temps aren't as cold as winter, of course. But, although trees might be beginning to bud and the sun might be starting to shine, heavy snowpack and rain are still common. The rain, in particular, is a serious threat.
Despite what you might think, being wet at moderately cold temperatures (35–50℉) makes you more likely to get hypothermia than being dry at much colder, sub-freezing temperatures.
So, staying both dry and warm is crucial to prevent hypothermia in the spring. Don't forget your rain jacket, and don't forget your winter hat and gloves just because it's spring, either. These pieces of apparel are so lightweight and compact that there's no reason not to pack them, even if it ends up being warm and balmy during your spring camping trip.
Understand the Limits of Your Tent
Your tent is your lifeline in the wilderness. It's perhaps the most important piece of your camping kit. On that note, it's important to remember that the title "three-season" tent can be misleading. Often campers believe that 3-season refers to a tent's viability in spring, summer, and fall. In actuality, 3-season tents are simply tents that are designed for traditional spring, summer, and fall weather.
But as we talked about above, spring weather is notoriously unpredictable. There is no "normal" weather in spring. So, a 4-season tent designed to handle the snow-loading and wind-loading in winter might end up being a far better choice for your spring trip. 4-season tents like the Woods Pinnacle are perfect for spring camping if there is a significant snowpack or you're in a high-altitude region. If you are in a protected site in mellow climes, a three-season tent could serve your needs well, and it will likely function better as you move into warmer late spring and early summer temperatures.