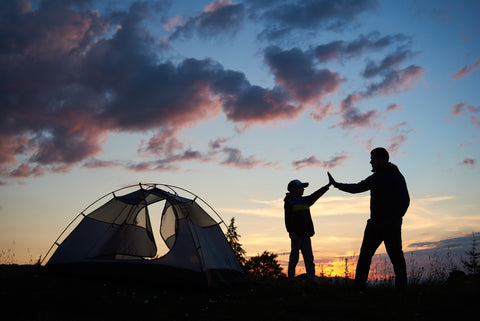 Best Tents for Family Camping
Best Tents for Family Camping
Everything you need to know to find the best tent for family camping, with inside tips, tricks, and knowledge from our camping experts.
When looking for family tents for camping, there are a variety of factors that come into play, factors that you may not think about when looking for traditional camping tents for yourself, your partner, or friends. Even if you've been backpacking and camping your entire life, shopping for a tent for your family is a whole different ball game. Bringing larger groups into the mix changes some critical aspects of the camping experience, particularly if your family includes children, elderly members, or pets. Don't think you simply need a larger tent. There is much more to look into that size when it comes to the best camping tents for family trips.
So, let's break it down. First, we'll dive into how to choose the best family camping tents, then we'll give you an extensive listing of our favorites, broken down by category so you can find the perfect tent for your next family trip.
How to Choose the Best Tent for Family Camping
For starters, the best camping tents for your family will depend on who your family is. How many family members are there? Are you camping with small children? Are you bringing pets? Will there be any elderly campers with you or anyone with a disability? These are all questions you need to ask yourself.
In general, however, the best camping tents for family trips need to be spacious, they need to be durable, and they need to be easy to set up and take down. Let's explain those three factors a bit more.
First, you want to have room for all your family members, plus food, gear, apparel, and any pets you may have. Children, in particular, aren't always keen on sitting still, and require a bit of extra space sometimes, even though they're smaller than adults. The same can be said for older adults, or anyone with a disability. If your family consists of a bunch of healthy and physically fit young adults or teens, you might be able to rough it and cram into a tight tent, but most families have members of all ages. In any case, this usually means you need a fairly large tent.
You also want the tent to be rugged enough to take a bit of abuse, particularly, again, if you have children who may roughhouse and inadvertently damage the tent material or frame (or if you want to bring your pets inside the tent). Naturally, the more people moving around inside a tent, no matter how large, results in more opportunities to knock the tent around and damage it.
Finally, you want the tent to be quick to set up and take down. It's no fun to have energetic kids racing around you while you're trying to set up your tent, or complaining while you're slowly taking it down. This tent will be providing shelter for a lot of people, so it needs to be ready to roll at a moment's notice, ideally. If you're camping for a week or more, then sure, maybe a fast setup time isn't as important, but just keep this all in mind.
Top-Rated Family Tent:
Outbound 6-Person 3-Season Instant Pop-Up Cabin Tent
This six-person pop-up tent is spacious enough to house most small to mid-size families and lightweight enough to take even on backcountry missions, so long as you can divvy the components up. It sports a next-gen fiberglass "Easy-Up" frame technology system, which allows for a rapid setup in the field.
Five zipper windows provide ventilation, a storage pocket allows for interior storage, and the see-through roof allows for stargazing and letting in a bit of sunshine. The 600 mm rain fly is burly enough to hold up under three-season (spring, summer, and fall) inclement weather, and the welded leak-proof seams and polyester bathtub floor do a stellar job keeping out groundwater. The tent comes with stakes, guy lines, a carrying bag, and an instruction manual. Both red and blue color schemes are available.
Best Tent for 3-Person Family:
A-Frame 3-Person 3-Season Tent
The A-frame style is the most classic camping tent build in existence, and that's for a good reason. Simply put, the design of A-frame tents is perfectly poised to expel precipitation, shuck wind, and offer reasonable space for the campers inside. This three-person tent sports an ultra-quick five-minute setup and has twin entryways on either end for easy access.
The polyurethane-coated fly holds up well in the rain, and No-See-Um mesh panels let you snooze under the stars without bug bites. This compact, lightweight tent (only 11 pounds) is affordable, but still light enough to take backpacking, and the rugged ripstop floor is tough enough to go without the support of a footprint. In addition to the standard army green tent, both brown and blue options of the same model are also available.
Best Tent for 4-Person Family:
Pinnacle Lightweight 4-Person 4-Season Tent
We have a variety of four-person tent options here at Woods Canada, including the Lookout and the Cascade, but the Pinnacle is our premier four-person tent, and the best option when it comes to camping tents for family trips into the wilderness. This is because it's extremely lightweight (only 12 pounds), with top-notch water resistance, but it's also absolutely massive inside, with additional exterior vestibules perfect for sheltering pets and gear. It's also rated for four seasons (i.e. winter, in addition to spring, summer, and fall), so this is a tent that can still hold up well even when colder weather comes around.
The PowerLight aluminum poles are rugged enough to take abuse (whether from the elements or roughhousing children) but still lightweight and easy to set up, while the reflective piping also makes it a great choice for families since it's extremely visible at night. All this functionality comes at an extremely affordable price (only $239). You'd be hard-pressed to find a tent of this caliber for under $300 anywhere else. If you're looking for a four-person tent that does it all, from lightweight trips to cold weather camping, the Pinnacle is your buy.
Biggest Tent for Large Family Camping:
Outbound 10-Person 3-Season Instant Pop-Up Cabin Tent
For large family groups, finding a tent that can fit everyone can be hard. If you're camping with a bigger family, or with two or three small families, this ten-person tent will get the job done with ease. The Outbound is one of our classic tent models, and in this ten-person version, you'll find all the same stellar features as in the six-person version above (which was our Top-Rated Family Tent).
The fiberglass "Easy-Up" pop-up frame, five large zipper windows with an entirely see-through mesh roof, a heavy-duty 600 mm fly with a large front canopy, it's all here, simply in a bigger size to accommodate up to ten individual campers. The Outbound comes in two color options, red and blue. If you're looking for an even larger tent, we also carry an Outbound 12-person model, but this tent is dome-style and not pop-up, so it takes a bit longer to set up and take down. However, if you need a tent for twelve campers, this is a great buy.
Best Price Family Size Tent:
Outbound 6-Person 2-Season Festival Tent
If budget is your concern, this model of the Outbound is an excellent choice. For a mere $89 you get a standout teepee-style festival tent, large enough to house six campers. This tent is built with water-resistant 600 mm coated fabric and fly, allowing for solid protection from inclement weather. It sports a single D-shaped mesh door and see-through mesh panels on all sides, perfect for sunny summer days, festivals, outdoor parties, and other events where you want to bring the outside inside.
An interior storage pocket is built into the tent, and a carry bag for easy packability and transport is included. The single-pole style makes it extremely quick to set up (and extremely lightweight), so this is an easy tent to take with you on the go. That said, the teepee style requires it to be staked out, so keep that in mind if you're looking for a tent to take to the beach, or if you're intended campsite is quite rocky or otherwise difficult to stake a tent down to.
Best Tent for Car Camping:
Outbound 8-Person 3-Season Lightweight Dome Tent w/ Screen Porch
When car camping, weight and packability aren't much of a concern, so a heavier tent like this one, which is 18 pounds, is still a great choice since it offers an unprecedented level of luxury and space. Not only does this tent sleep up to eight people, but it offers a detachable room divider for privacy, so you can essentially make this a two-room tent. In addition, a spacious screened porch offers a nice place to sit and drink a beer or enjoy the summer breeze. This is a bulky tent, but it offers unmatched comfort and functionality, so it's a top-tier choice for the best car camping tent.