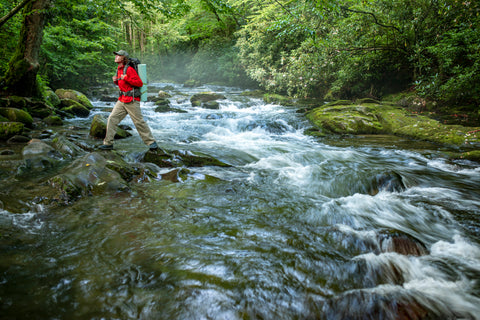 Best Destinations for Your Memorial Day 2022 Trip
Camping on Memorial Day 2022
The last Monday in May each year, Memorial Day is a U.S. federal holiday created as a time to mourn, honor, and celebrate the U.S. military personnel who have died while serving in the armed forces. Memorial Day is also well-known as the start of summer, so it makes sense that it's one of the busiest times of the year for outdoor lovers in the United States. Whether you're celebrating Memorial Day with a backyard barbecue or a weekend camping trip, you're not going to be alone.
How to Plan the Perfect Memorial Day Weekend Camping Trip
All the camping gear you'd use on Memorial Day is the same as any other summer camping or backpacking trip. The big difference about camping on this holiday is that so many Americans go out on Memorial Day weekend, so campsites are often crowded and booked in advance.
So, the key thing to remember when planning a Memorial Day camping trip is to plan early and plan well. Make sure you reserve your campsite well in advance, and that you're aware of the restrictions and regulations at your destination. Some campsites prohibit fires, others prohibit pets, others have limits on the number of campers you can have at a given site, and so on.
Campsites are loaded up on Memorial Day, so park staff will be bogged down and less able to accommodate any abnormal requests than they are during less busy times of the year. Do your due diligence and make sure you've dotted your I's and crossed your T's well in advance of Memorial Day Weekend!
What to Avoid When Camping Over Memorial Day Weekend
Although it's become the de-facto "start of summer" in much of the United States, remember that Memorial Day was created as an official time for mourning, not a time for celebration and parties. It's a great day to get out and enjoy the outdoors, but remember that the reason we're getting to recreate is because of the brave men and women who have fought and died in the line of duty.
The point is: You should always be respectful and courteous on Memorial Day.
Getting intoxicated, playing loud music, littering, or otherwise being disruptive at campsites or elsewhere in the outdoors is never a good idea, but on Memorial Day many will find it extremely disrespectful, especially veterans or those who have lost family and friends in the line of duty.
Top Memorial Day Destinations
Almost any national or state park in the United States is going to be a good spot to visit on Memorial Day, but below are a few favorites. If you want to go camping for Memorial Day, these are excellent options!
Great Smoky Mountains National Park (Tennessee)
The lush, rolling mountains of the Smokies, nestled between North Carolina and Tennessee, are home to America's most-visited national park for a reason. You can spend the day exploring Cades Cove and the rich history of the area, with buildings dating back to the 1800s. You can hike by streams, rivers, waterfalls, and many blooming wildflowers, then check out the popular tourist town of Pigeon Forge nearby!
Unlike many other national parks, there is no admission fee, making the Great Smoky Mountains perhaps the U.S.'s easiest park to visit. 10 developed campgrounds, all of which have restrooms with running water and flush toilets, make for a comfortable, stress-free camping experience.
Great Sand Dunes National Park and Preserve (Colorado)
Did you know Colorado has sand dunes, not just mountains? From sandboarding to dune hiking, Great Sand Dunes is a fascinating desert park. The mellower, end-of-spring temperatures during Memorial Day Weekend make for a great time to visit the park (before it becomes blisteringly hot in the summer). There are plenty of nearby campsites to choose from, too!
Mount Rushmore National Memorial (South Dakota)
If you want to focus on the patriotic aspect of Memorial Day, Mount Rushmore is the perfect place to spend the holiday. This giant stone carving of U.S. presidents Washington, Jefferson, Roosevelt, and Lincoln, is an iconic American landmark, but the nearby area also houses plenty of other outdoor destinations.
Devils Tower, Custer State Park, and Badlands National Park are all just a few hours away. It's important to note that camping is not allowed inside the park proper, but it is available nearby. Just make sure you get reservations well ahead of time!
Zion National Park (Utah)
The world-famous slot canyons of Zion are a must-see for any outdoor lover. The 2,000-foot deep canyon that gives this park its name houses a plethora of exciting hikes, from the spine-tingling catwalk of Angel's Landing hike to the mellow Narrows Riverside Walk. There aren't many campgrounds inside the park (only three), so be sure you book in advance. Zion is one of America's most crowded parks, and regulations to manage those crowds are changing often, so you should especially plan in advance if you want to spend Memorial Day here!
Rocky Mountain National Park (Colorado)
These 415-square miles of rugged mountain terrain north of Denver offer sublime alpine vistas and spectacular hiking, not to mention the local elk herd, bighorn sheep, and deer. Whether you want to try for a summit of Longs Peak, the 14,000-foot mountain that crowns the national park, or simply take in the fresh mountain air, you can't go wrong with a trip to Rocky Mountain.
The outdoor mecca of Estes Park is right on the edge of the park, and you can camp in the park itself at campgrounds in Aspenglen, Glacier Basin, or Moraine Park. If you want to go RV camping for Memorial Day weekend, there are also many RV sites, including Manor RV Park, Spruce Lake, and Jellystone Park.
Frequently Asked Questions
Where do most people go for Memorial Day?
Most people head to the lake, beach, or woods for Memorial Day. It's considered the first true summer holiday in the United States, so folks want to take advantage of the warm weather and sunshine. Watersports destinations, such as beaches, lakes, and rivers are especially crowded on Memorial Day, as are local swimming pools. Keep this in mind when camping for Memorial Day. If there's one day out of the year that beachfront or lakefront campsites are going to be busy and booked up, it's Memorial Day (along with the 4th of July and Labor Day).
What should you not do on Memorial Day?
As we mentioned above in the "What to Avoid" section, Memorial Day is a time for mourning just as much as it is a celebration of the brave men and women who have died in the line of duty. Respect and courtesy are important as you enjoy the outdoors.
Becoming intoxicated, acting rowdy, playing loud music, or otherwise being disruptive at a campsite, beach, lake, or another outdoor destination is never a good idea. But on Memorial Day, it's extremely disrespectful. Save the antics for another trip. Another thing to remember is that Memorial Day isn't designed to honor current veterans (that happens in November, on Veteran's Day). Memorial Day is for focusing on those who have lost their lives in the line of duty.
Is Memorial Day a busy travel day?
Almost all holidays (Memorial Day included) are busy travel days, simply because people have time off work, so many are going to visit family or on vacation. That said, Memorial Day is not generally a busy day for airport travel. Unlike holidays such as Thanksgiving and Christmas, Memorial Day isn't one of those days where tons of people are flying home to see their families. Instead, local roads and highways will be busy, as people drive to nearby destinations such as the beach or a local state park to barbecue, swim, and otherwise enjoy the great outdoors!