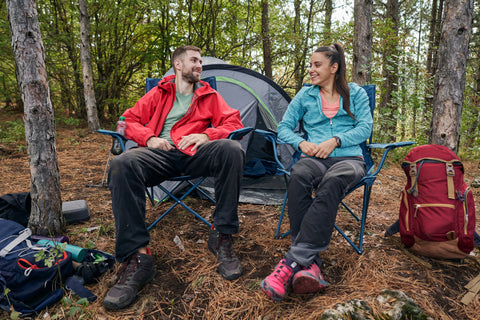 The Best Camping Chairs 2022
The Best Camping Chairs 2022
Taking trips into the great outdoors doesn't have to mean squatting on rocks and logs. Look no further for the best camping chairs available online.
Just because you're heading into the wilderness doesn't mean you have to be uncomfortable the entire time, and the best-rated camping chairs will fix that. It doesn't matter if you're heading into the Yukon on a rugged backcountry hunting trip or simply taking your family car camping at a local park. A reliable (and comfortable) camp chair is something every outdoor enthusiast will appreciate.
Camping chairs allow you to relax at the end of a long day, provide somewhere to sit while eating meals, talking, or playing games, and are a great way to keep your body up off the cold ground (or rocks and logs) in winter months since this can sap your body's heat. They're also great for days at the beach, sporting events, and other non-camping activities. We have the best-rated camping chairs on the market here at Woods Canada, whether you're looking for a lightweight, packable camp chair, a padded rocking chair, or a luxury recliner.
Let's dive in and learn more about what you should look for in a camping chair, then we'll show you a few of the best-rated camping chairs available online.
Most Important Qualities of a Camping Chair
Weight
Weight is a factor with any piece of camping gear, and camping chairs are no different. The importance of weight will vary depending on your intended style of camping, of course. When car camping or setting up in your backyard, the focus should be more on comfort (see below) than weight. If you're looking for a chair that you can pack in while hiking, or for a more minimalist trip where you'll need to bring lots of gear, food, water, and other supplies and don't want a bulky chair weighing you down… well, then weight is naturally a major concern.
Size
Camping chairs need to be compact and portable. You don't want them taking up a ton of space in your car or tent. The best camping chairs are always folding chairs of some kind. Size is also a concern when the chair is fully put up. Think about the space of your intended campsite, and consider this before buying a large, reclining camp chair. In particular, think about the amount of clear, level ground available, and find a chair that can be accommodated by the space you'll have.
Comfort
Comfort is one of the most important factors to look into when purchasing a camping chair. Generally, the padding, size, and reclining capabilities are the biggest aspects of comfort. The accessory features (see below), like cup holders, can also add to the comfort of a chair. Keep in mind that increases in comfort generally come at the expense of weight and portability (though not always).
Weight Capacity
Weight capacity isn't generally something to worry about, because Woods Canada camping chairs are notoriously stout, and can hold a lot of weight with ease. Generally, our top-rated camping chairs have a weight capacity of at least 300 pounds, if not more. The Mammoth Folding Padded Camping Chair, for example, can hold up to 400 pounds. That said, if you're heavy-set, then it may make sense to do some digging and ensure your chosen chair can support your weight.
Price
Camping chairs can get expensive if you're not shopping in the right place. Some chairs go for hundreds of dollars (needlessly), but our chairs are some of the best-priced camping chairs available. You can find everything from padded bucket chairs to luxury loungers and recliners. Regardless, you won't beat the prices here.
Durability
Camping chairs should be made to last. Features like the rust-resistant powder-coated steel frames and stout 600-denier polyester fabric on our chairs help ensure these camping chairs are around for many seasons to come.
Features
There are a number of accessory features that can come with a camping chair. Some of the more common features are cup holders, mesh pockets to store a phone, wallet, car keys, or other small essentials, carrying bags to pack up the chair when not in use, rocking chair-style rails, and footrests. Some chairs come with side tables, as well. Check out the available accessory features to help you make a decision that's right for you.
Best Rated Camping Chair: Woods Mammoth Folding Padded Camping Chair
It's hard to pick the best-rated camping chair in our arsenal, but our Woods Mammoth is perhaps the best all-around option for a variety of campers. Nearly 200 reviews on our website list the chair at 4.7/5 stars!
You're getting an extremely comfortable bucket chair, fitted out with plush padding and with oversized dimensions for maximum relaxation. The 600-denier polyester fabric is rugged enough to hold up for years to come, and this chair sports an impressive 400 lb weight capacity (despite its mere 11-pound weight). A carry bag with an adjustable shoulder strap is included, too. This chair is available in Dijon, Sea Spray, Gun Metal, Navy, and Green hues.
Best RV Camping Chair: Ashcroft 3-Position Reclining Camping Lounger Chair
When RV camping, you'll have plenty of space to store your gear, and you won't need to set it up far from your RV, but you'll probably be spending a lot of days and nights hanging out outside. That's why the best RV camping chairs are those that don't skimp on comfort.
Our Ashcroft 3-Position Reclining Camping Lounger Chair offers maximum luxury, with an adjustable backrest with 3 reclining positions and an extended footrest so you can prop your legs up like a sultan. It's easy to keep a drink by your side with the built-in cup holder, too. This recliner folds flat, including a webbed carry strap for easy transportation. It's available in Gun Metal, Dijon, and Sea Spray.
Best Lightweight Camping Chair: Woods Folding Directors Camping Chair w/ Table
At only eight pounds, the Woods Folding Directors Camping Chair is an extremely lightweight camping chair, but it's also quite functional, with a built-in folding side table to hold food, drinks, a journal, a book, speaker, or anything else. The rust-resistant, powder-coated metal frame is equipped with ribbed polyester fabric, offering a 350 lb weight capacity, along with stabilizer rear feet to make the chair even sturdier. The side table incorporates a drink holder along with a mesh and zipper pocket to store valuables. The armrests are also padded for extra comfort. This chair comes in Gun Metal and Blue Coral hues.
Best Priced Camping Chair: Woods Siesta Folding Reclining Padded Camping Chair
This is the most affordable camping chair on our site, but it doesn't skimp on comfort either. That probably explains why after over 260 reviews, this chair holds a 4.6/5-star rating! It's extremely well-padded, with three adjustable backrest positions, and offers a stout 300 lb weight capacity, thanks to a heavy-duty rust-resistant steel frame. A built-in cup holder adds to the functionality, and an included carry bag provides for easy transport and storage.
Trust us, you won't find a chair this comfortable or durable for this price anywhere else. This chair comes in Dijon, Gun Metal, Sea Spray, Blue, and Red hues.
How to Store a Camping Chair
Storing a camping chair varies depending on the type of camping chair you have. Is it laterally folding like the Woods Folding Director's Chair, or do all four corners of the chair fold up into a central point, like our Woods Siesta? Either way, once the chair is folded and packed into its carry bag (if it has one), then it can be safely stowed in your car, tent, or garage until you're ready to use it again.
The best camping chairs, particularly those from Woods Canada, are pretty rugged, so you can store them just about anywhere. That said, try not to place heavy items on top of the joints of the chair, and try to store your chair in a dry place, so that the fabric doesn't become wet and degrade over time. This is particularly important in the winter months since if the fabric gets wet and then freezes, it will degrade faster.