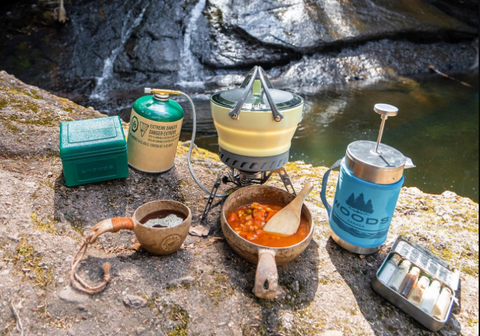 Best Backpacking Meals
Everything You Need to Know About Cooking While Backpacking
Cooking while backpacking should be simple and fast. You don't have the space to carry the ingredients for extensive, multi-course meals, and you don't have the time to prepare those kinds of meals either.
The best backpacking meals and recipes revolve around a few key ingredients and can be prepared in one or two steps. These ingredients should also be nonperishable. Raw meat, dairy products, and fresh fruit and veggies are great for car camping trips, where you can bring a cooler to keep your food fresh, but in the backcountry, these ingredients will spoil fast.
What to Bring & How to Plan Ahead
Bring lightweight, simple meals high in calories. Thinking about both calories per ounce and calories per dollar is one way to craft a great meal plan for your trip. We'll list a few great backpacking meal ideas below.

Beans

Beans are nonperishable, they cook fast, and they're high in nutritional value (protein, fiber, magnesium, iron, zinc, selenium, and B vitamins). Avoid canned beans, which are quite heavy, and bring dried beans instead, preparing them in boiling water.

Rice

Rice is another great choice, for many of the same reasons that beans are. Brown rice, in particular, packs a high amount of calories and a ton of nutrients, like fiber and B vitamins, as well as manganese, selenium, and copper. It cooks fast in boiling water (although white rice is faster), weighs very little, and is extremely cheap. It's a great base for numerous easy backpacking meals. What's not to like?

Dried Meat

Beef jerky and other dried meats add a bit of flavor and protein to your diet, all while remaining nonperishable and lightweight. Pre-seasoned, packaged meats make great fast snacks on the trail. Simply tear 'em open and dig in!
Oatmeal

Like beans and rice, oatmeal is nonperishable, lightweight, and cheap, but it also cooks 5x faster (at least if you buy instant varieties). You can whip up a hearty bowl of oatmeal in a minute or less! Flavored options (like maple brown sugar cinnamon and apples & cinnamon), add a bit of variety to your breakfast and are a great way to start the day with an energy boost.

Nuts and Seeds

Nuts and seeds are extremely high in vitamins, minerals, healthy fats, fiber, and protein, and pack tons of calories for their size. Avoid focusing on peanuts, which aren't very healthy, and opt for almonds, cashews, walnuts, pistachios, or pumpkin seeds instead. Sunflower seeds are another nice choice, and salted, in-shell options like sunflower seeds give your mouth something to do while you're on the move, helping distract you from fatigue on the trail.

Dried Fruit

Unlike fresh fruits, dried fruits can last for eons, but still contain most of the nutrients found in fresh fruit. Dried fruit offers vitamins, minerals, antioxidants, fiber, and carbs, all in a compact, nonperishable size. Dried fruits (depending on the fruit) are also high in sugar, so they're a great source of fast energy on the trail (just be sure not to overindulge). Mix your favorite dried fruit, nuts, and seeds for an unbeatable trail snack!

Canned Fish

Fresh fish isn't viable when backpacking, but canned or otherwise preserved fish makes an excellent source of protein. Tuna, sardines, and salmon can easily be found tinned or canned at your local supermarket, or in foil packaging (which saves weight), as can chicken and turkey. These meats are all packed with protein, B vitamins, iron, and many other nutrients that keep you healthy on the trail.

Hard Cheeses

Hard cheese is fairly shelf-stable, unlike soft cheese, so it's an ideal trail snack (and can be shredded over meals). Cheese contains healthy fats, B vitamins, calcium, and phosphorus, as well as a high protein count!

Coffee, Hot Chocolate, or Tea

Coffee, hot chocolate, and tea are both lightweight and easy to prepare and provide an energy boost, whether from the sugar in hot chocolate or the caffeine in tea and coffee. Warm, caffeine-free herbal teas help you unwind at the end of a long trail day, and a piping hot cup of joe or black tea is the perfect choice to get you started in the morning!

Bonus: Pre-Made Dehydrated Meals

Dehydrated backpacking meals from brands like Mountain House and Backpacker's Pantry make it easy to whip up a scrumptious dinner. Just add boiling water and your full-fledged meal is ready to go in minutes! Unfortunately, these options aren't cheap and they can be quite bulky, so they're best used sparingly, perhaps as a treat on the last night of a multi-day trip.
The Best Gear Choice for Your Backpacking Meals: Outbound Portable Camping Stove
Almost no backpacking meal is possible without a stove to cook it on, so a lightweight, single-burner stove is a must-have even for a one-night trip. The Outbound Portable Camping Stove (1.72 lbs) offers a stable, reliable cooking solution. Built from durable, chrome-plated steel, this stove fits up to a 10" pot or pan and easily performs in both sub-freezing temperatures and high altitudes. It sports up to 10,000 BTUs of heat and a match lighting adjustable burner control for precise temperature and versatility.
Frequently Asked Questions
How do you eat well while backpacking?
The key to eating well when backpacking is proper planning! Bringing a bunch of random foods and then trying to DIY all your backpacking meals on the fly isn't going to turn out well. Plan out your meals for every day of your trip, and bring the exact amount and type of ingredients you need to cook each meal. See the section "What to Bring & How to Plan Ahead" above for more info.
What food should I bring on a 5-day hike?
A five-day hike is a serious undertaking. You don't just need energy, you need a series of meals that will keep you moving and provide sustained energy and nutrition, but also don't require a ton of time to prepare.
Dehydrated, pre-prepared meals from brands like Mountain House and Backpacker's Pantry can work, but are probably too expensive and bulky to make up your entire meal plan. Try to focus on dried meats, cheese, fruits, nuts, and seeds for lunch, oatmeal for breakfast, and longer prep-time meals for dinner, like rice and bean-based recipes. See the section "What to Bring & How to Plan Ahead" above for more info.
What should I eat on a 2-day backpacking trip?
A two-day backpacking trip is fairly short, so you don't need to stress about food too much. Dehydrated, pre-prepared meals are a simple, fast way to eat well for short backpacking trips (all you need to do is add water) so they're a great option for one or two-day trips.
That said, they are pretty expensive. If you're on a budget, choices like rice, beans, dried meats and fruit, hard cheese, nuts, seeds, and oatmeal are worthy choices. See the section "What to Bring & How to Plan Ahead" above for more info.