Key Features
Thick foam padding for added comfort

Foldable design for easy transportation and storage

This product sets up in under 1 minute

Rust-resistant, powder-coated steel frame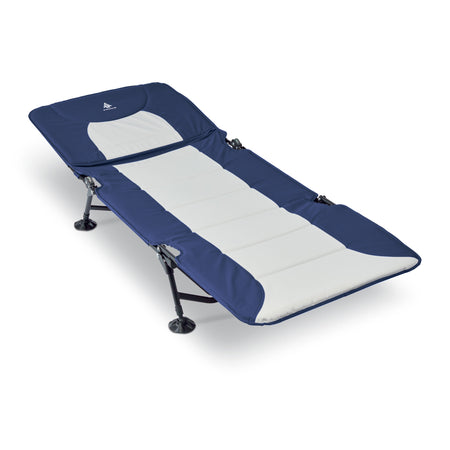 Weather-resistant, waterproof fabric prevents moisture buildup

Multi-angle backrest for lounging or sleeping

Customer favorite, this product has a high star rating with over 300 reviews

Tested for life in Canada
Specifications & Sizing
Color: Gray
# of people: One
Weight: 18lbs 15oz / 8.6kg
Weight limit: 300lb
Assembled Dimensions: 79 x 30 x 10"
Storage Dimensions: 32.9 x 5.3 x 31.1"
Height: 10"
Technical Aspects
Fabric material: 600D polyester with PVC coating, quilted
Pole material: Durable, black matt powder-coated, rust-resistant steel frame
Weather Resistant: 72 hours, grade 3-4
Built To Last
Woods™ products are built to last, and undergo testing for extreme durability in the Canadian outdoors. Products come with a 1 year limited warranty.
California residents
Click here for Proposition 65 warning
Heritage Of the Woods' Sleeping Bags
Woods is one of the oldest and most famous sleeping bag manufacturing companies in the world. Woods' products have been used by famours explorers such as Admiral Richard Byrd, Roald Amundsen, Sir George, Hubert Wilins and Father Hubbard. They have also written and talked about by Ernest Hemingway and Will Rogers.
1906 - Navigation of the Northwest Passage
Woods' sleeping bags and tents were on-board the ship Gjoa, when Roald Amundsen and his crew sucessfully navigated the Northwest Passage in 1906, ending more than 400 years of failed attempts by such legendary explorers as Sir John Franklin. Amundsen would later say of his exploration "There are two times a man is happy, when he's up at the North Pole. When his belly is full of hot liquid and when he's in his Woods' sleeping bag"
1925 - First ascent of Canada's highest peak Mount Logan
An international team of explorers led by Albert MacCarthy became the first people to reach the summit of Mount Logan on June 23rd. To this day, the expedition is seen as one of the most arduous mountain adventures ever undertaken, lasting 65 days and covering a total distance of 120 miles. On their return journey, the expedition culminated in a float down the Chitna River, when all team members could no longer walk due to frostbite - an adventure of epic proportions into the unknown. Woods outfitted the expedition with sleeping bags, tents, backpacks and parkas.
1982 - First ascent of Mount Everest by a Canadian team
By 1982, there were few places left where Woods and Canadians hadn't travelled, but an extreme adventure was still to be had. Laurie Skreslet became the first Canadian to reach the summit of Mount Everest on October 5th at 9:30 am. Woods supplied Skreslet and the Canadian team with sleeping bags, tents and the Arctic parka, Laurie would wear at the world's greatest height.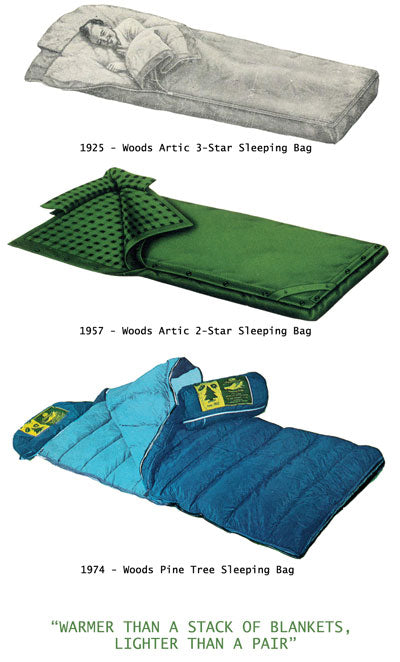 Customer Reviews
Explore These Products For Your Next Adventure